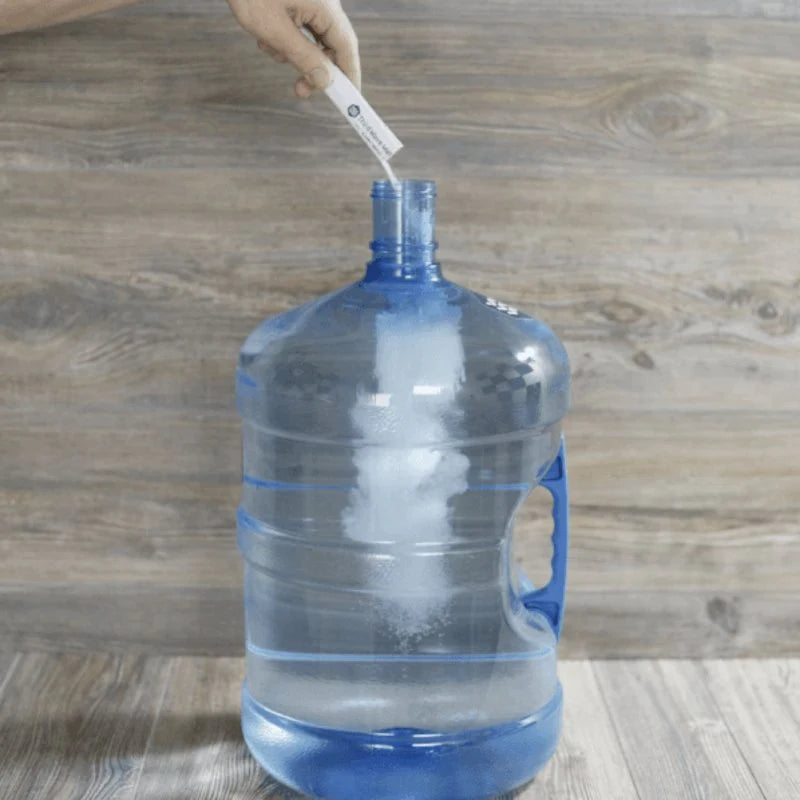 THIRD WAVE WATER Espresso Profile - Mineral Packets
Third Wave Water
Get the coffee flavour you crave with Third Wave Water. Their unique capsules dissolve into your distilled or reverse osmosis water for a mineral combination that delivers an unbeatable taste in every cup. Forget chlorides, and join us on our mission to create perfect pour-over brews - each sip is bursting with deliciousness!
Order now and get it on October 3, 2023 !
Free shipping over 75$ !
Customer service by coffee geeks
Returns accepted in 30 days
Carbon neutral deliveries
See it in action
Are you intrigued about the unique features of this product and interested in seeing it in action? Then, watch this quick video to get a better understanding.
Watch
Description
Specs
Shipping & Returns
The best water for Espresso
Do you ever feel like your espresso lacks depth and flavor? If so, then you need Third Wave Water's Espresso Profile. With its specially formulated water, this product enhances the flavor of your espresso, making it a true sensory experience. You'll be able to taste every note and subtlety in your coffee, and your taste buds will thank you

Mineral packets for water
Unlock the hidden potential of your filter coffee! Those 98% water molecules are oh-so important - because when high quality H2O meets aamazing single origin or house blend beans, magical things happen.
What is the best water to use for espresso?
If you're looking to elevate your espresso game, using the right water is key. Regular tap water can contain impurities and wrong mineral proportions that can negatively impact the taste of your coffee. The best water to use is Third Wave Water's Espresso Profile, you can be sure that the mineral content of the water is perfectly balanced to bring out the best in your coffee beans.
Espresso vs Classic Profile
Third Wave Water offers two products, the Espresso Profile and Classic Profile, that enhance coffee flavor. The Espresso Profile matches the ideal mineral content for espresso extraction and is perfect for high-end espresso machines and specialty coffee enthusiasts.
Third Wave Water offers two Profiles for different brewing methods. The Espresso Profile is ideal for high-end espresso machines, while the Classic Profile is perfect for manual brewing methods such as pour-over, French press, and Aeropress. Both Profiles contain a balanced ratio of minerals to enhance the flavor and aroma of your coffee beans.
FAQ
What is Third Wave Water made of?
Transform your coffee experience with Third Wave Water's mineral blend! Combining the perfect ratios of Magnesium, Calcium and Potassium along with just a hint of Bicarbonates - but no Chlorides. Just add one sachet to distilled or reverse osmosis water for delicious brews that take flavor to the next level!
What does Third Wave Water do?
Third Wave Water puts the perfect minerals in place to enhance and enliven every sip. Without these essential elements, water would just pass through coffee grounds without picking up any flavors as intended by roasters — resulting in a less than stellar brew that could be bitter or lack flavor altogether.
Is it good to use distilled water in espresso machine?
Using distilled water in an espresso machine is not recommended. While distilled water is free of impurities and minerals, it also lacks the minerals that are necessary for optimal espresso extraction. Espresso extraction relies on a balance of minerals in the water, such as calcium and magnesium, to help extract the full flavor and aroma of the coffee beans. When using distilled water, the water is too pure which leads to under-extraction and a flat-tasting espresso.
For best results, it is recommended to use water that is specifically formulated for espresso machines, such as Third Wave Water's Espresso Profile, which is designed to bring out the optimal flavors in specialty coffee.
Each pack includes 12 sachets
Each 1 Gallon sachet treats 4 litres (1 gallon) of distilled or reverse osmosis water for a total of 48 litres per pack
Each 5 Gallon sachet treats 19 litres (5 gallons) of distilled or reverse osmosis water for a total of 227 litres per pack
Blend of Magnesium, Calcium and Potassium
How do you store Third Wave Water?
Add a splash of Third Wave Water minerals to your tap water and voilà! Your mineral-packed mixture can be stored without worries at room temperature or in the fridge. No more separation - just great tasting, fresh-mineralized H2O every time you pour!
To keep your water as pure and safe to drink as possible, avoid leaving it in the sunlight. Lacking protective chemicals like chlorine or chloride can open up a gateway for bacteria growth - not something you want!
Shipping: Free shipping for orders over 75$ in Canada and USA. Shipping rates calculated at checkout. Cafe Fabrique is not responsible for any applicable import fees. International Orders are shipped at the risk of the buyer - Café Fabrique will not be responsible for lost/damaged items
Returns: Any item you're not completely satisfied with can be returned up to 30 days after you receive it. The cost of the item, minus initial shipping costs will be refunded.
Click here for the complete shipping policy.
Description
Specs
Shipping & Returns