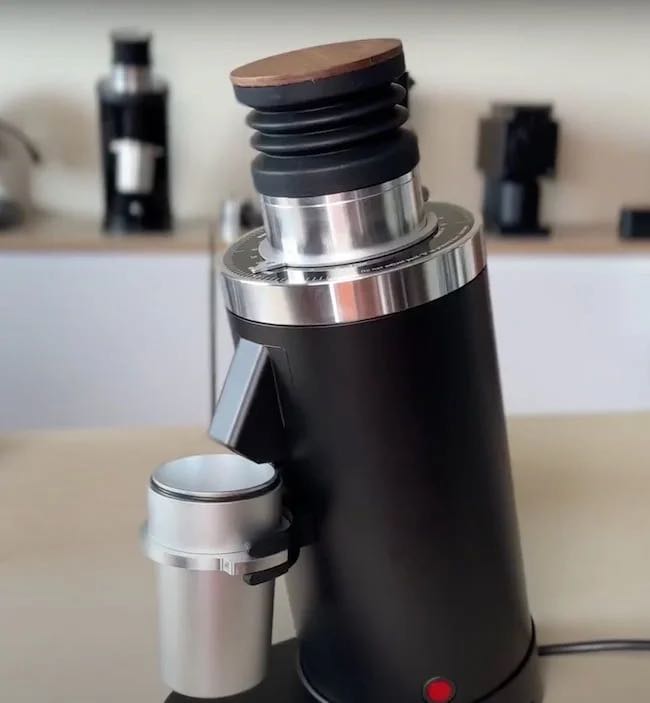 DF64 Gen 2 With DLC Burrs - Single Dose Coffee Grinder
DF64
The DF64 Gen 2 is the latest iteration of a grinder that already had a stellar reputation. This new version takes into account feedback from its previous models and ups the ante in just about every way. At the heart of it, you'll find a robust 250W motor paired with 64mm DLC burrs. These aren't just any burrs; they're coated with Diamond-Like-Coating that significantly outlasts standard steel burrs. We're talking 10x the longevity!
Free shipping over 75$ !
Customer service by coffee geeks
Returns accepted in 30 days
1 year warranty
See it in action
Are you intrigued about the unique features of this product and interested in seeing it in action? Then, watch this quick video to get a better understanding.
Watch
Description
Specs
Shipping & Returns
DF64 Gen 2 Overview
The second generation of the DF64 coffee grinder incorporates advancements such as a refined 250W motor, a plasma generator for the mitigation of static, and an array of upgraded accessories, including a metal dosing cup and wooden lid, all of which contribute to a superior and enduring product.
DLC Burrs
The DF64 Gen 2 incorporates 64mm DLC (Diamond-Like-Coating) burrs, offering grind consistency typically seen in pricier models. Its 250W motor and plasma generator contribute to minimal clumping and a fine, fluffy grind.
Extremely Low Retention
Optimized for espresso yet versatile for pour-over, the DF64 Gen 2 comes in a compact size with minimal retention and allows step-less adjustments—making it ideal for home use.
Features
Single dosing: No hopper design combined with the blowing hopper means no stale coffee; only put in the exact amount of beans needed.
64mm DLC flat burrs: Comes standard with 64mm DLC (Diamond-like-coating) flat burrs that will last 10x longer than standard steel burrs (~3000kg).  
Plasma Generator:  Reduces static in the exit chute for all grind size and roast levels.
Extremely low retention (ELR): The DF64 has <1g of retention, 0.2g dose variance and <0.3g exchange; ranking it amongst the best grinder available on the market.
Stepless Micrometric Adjustments: Unlimited adjustments with the stepless adjustment collar.
Easy to clean:  Simply unscrew the collar all the way to access and clean the burrs.
58mm dosing cup included:  Grind directly into the included dosing cup or into your portafilter.  
| | |
| --- | --- |
| Burrs | 64mm DLC burrs |
| Adjustments | Stepless Micrometric |
| Motor  | 110/120V, 250W |
| Dosing | Manual |
| Hopper Capacity | 50g  (plus 30g in grinding chamber) |
| Depth | 25.4cm (10") |
| Height | 30.5cm (12") |
| Width | 13.2cm (5.2") |
| Weight | 6.8kg (15lbs) |
| Made in | China |
| Manufacturer Warranty | 1 year |
| Best suited for | Espresso, Pour Over |
Shipping: Free shipping for orders over 75$ in Canada and USA. Shipping rates calculated at checkout. Cafe Fabrique is not responsible for any applicable import fees. International Orders are shipped at the risk of the buyer - Café Fabrique will not be responsible for lost/damaged items
Returns: Any item you're not completely satisfied with can be returned up to 30 days after you receive it. The cost of the item, minus initial shipping costs will be refunded.
Click here for the complete shipping policy.
Description
Specs
Shipping & Returns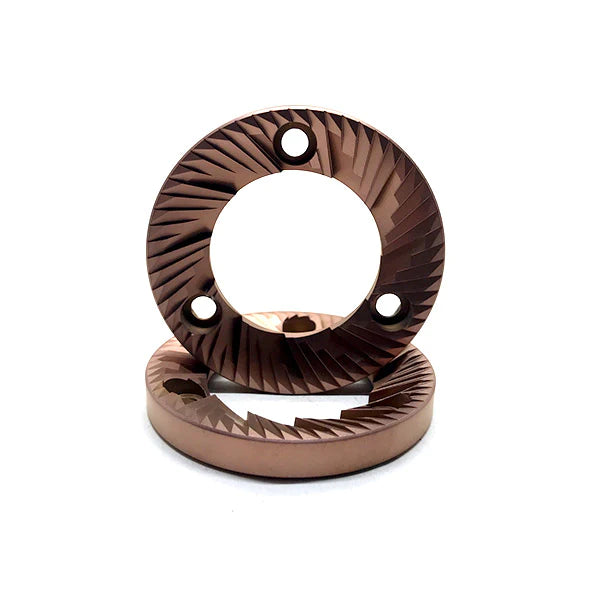 $188.00
Frequently bought together
SSP 64mm Burrs - Red Speed EP & MP
SSP Grinding Solution burrs are the ultimate choice for coffee enthusiasts looking for the perfect grind. Made of high-quality cast-iron material and featuring a durable Red Speed (AlTiN) coating, these burrs boast a custom geometry and unique top and bottom design, ensuring a consistent grind and unparalleled taste in every cup. Upgrade to the best with SSP Grinding Solution burrs.