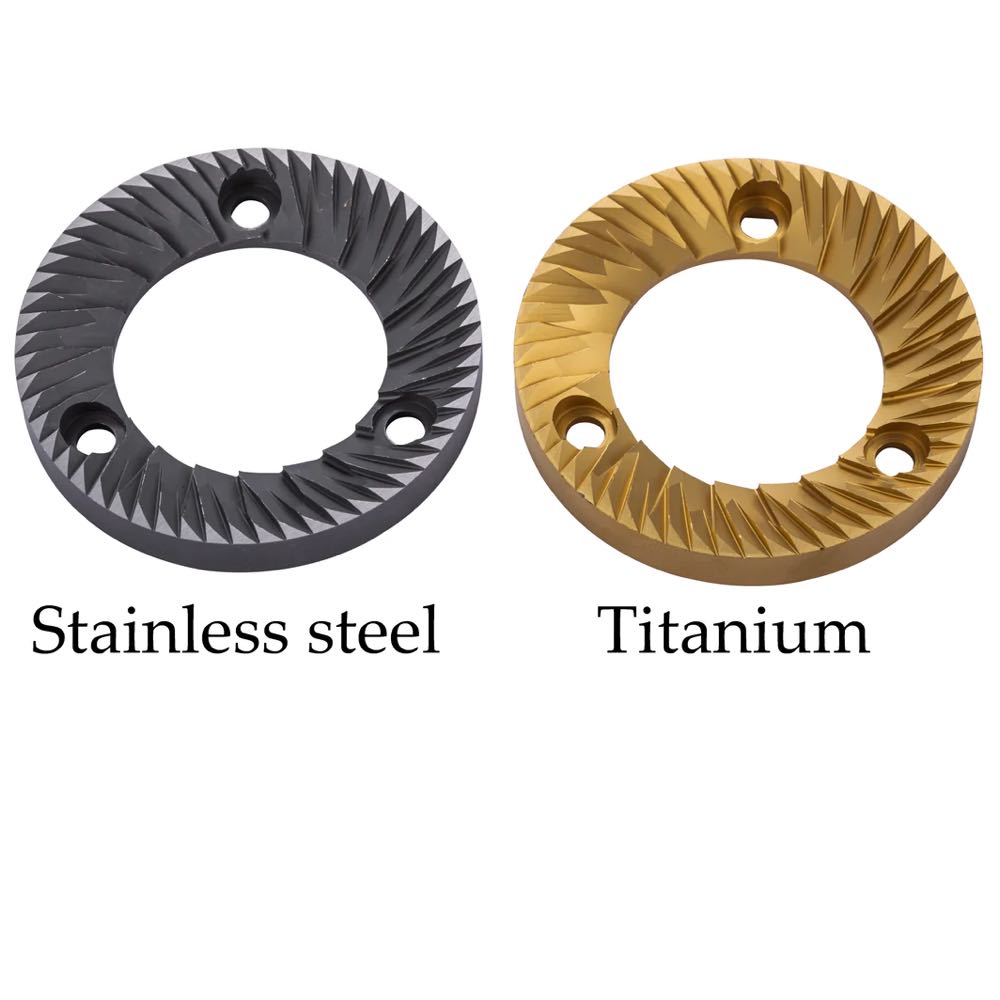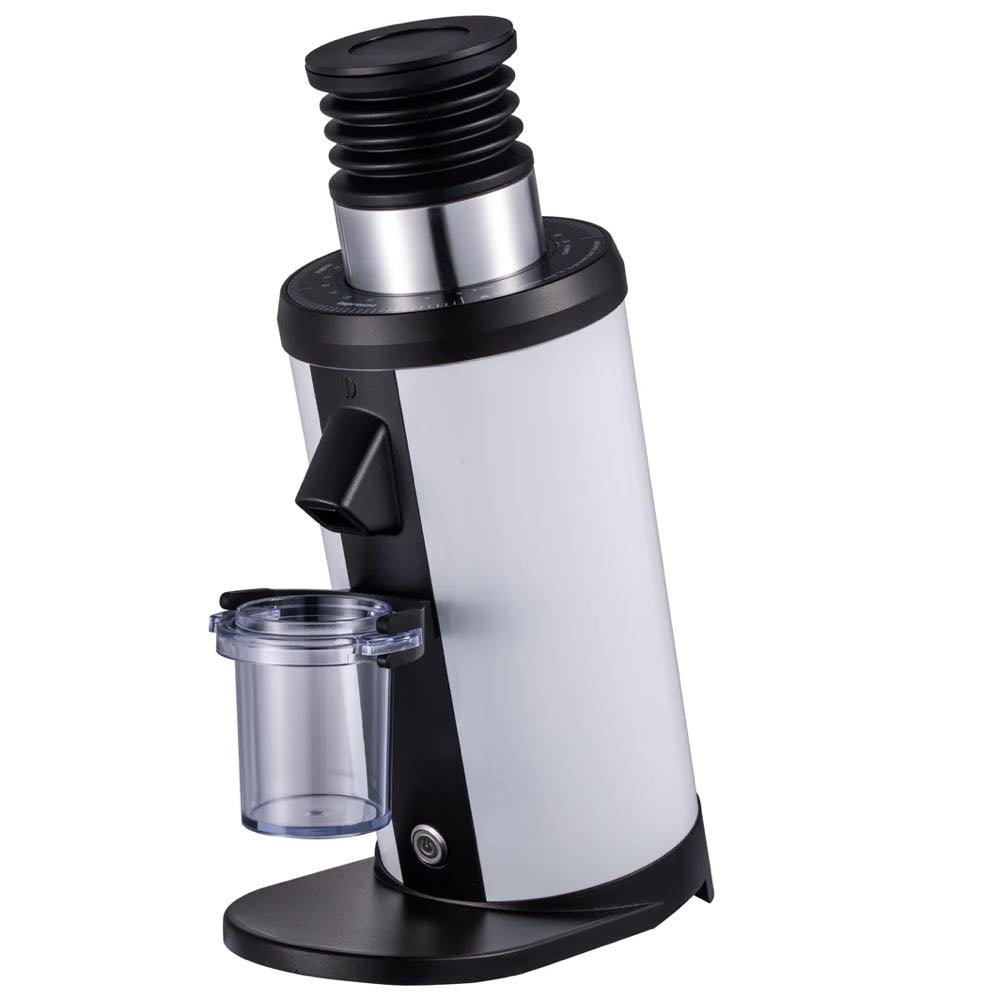 DF64 Coffee Grinder V4 - Single Dose Espresso
DF64
Not only is the DF64 highly capable and affordable, but it also boasts a host of features that coffee enthusiasts have been searching for. With its large 64mm Italian made burrs and powerful 250W motor, you can trust that every grind will be consistent and fluffy, just like you'd find in grinders that cost twice as much. With stepless adjustments and extremely low retention make it a perfect fit for any home setup.
Free shipping over 75$ !
Customer service by coffee geeks
Returns accepted in 30 days
1 year warranty
Description
Specs
Shipping & Returns
Turin DF64
The DF64 is a highly capable and affordable single dose grinder that has all the features that coffee enthusiasts have been looking for. It features large 64mm Italian made burrs and a powerful 250W motor, which ensures consistency and minimal clumping, resulting in a fluffy grind that is typically found in grinders that are twice its price.
Read our full review here!
Espresso & Pour Over
The DF64 is primarily designed for use with espresso, but is also well-suited for pour-over brewing. Its compact size, stepless adjustments, and extremely low retention make it an ideal choice for any home setup. If you're looking for the best single dose grinder in, the DF64 is definitely worth considering.
Different burrs available
Stainless Steel: Purpose made espresso burrs
Titanium: Same geometry as the stainless steel burrs but coated to last 4x longer with less friction.
Upgrade to SSP Burrs
Upgrade to SSP burrs for even better results! Note that the adjustment lever may need to be reset due to the burrs being a slightly different thickness than the OEM burrs.
Improved DF64
This is the latest version of the grinder that includes:
New de-clumper design
Included metal dial indicator
Improved burr carrier
Silicone burr seals
New font on adjustment dial
Features
Single dosing: No hopper design combined with the blowing hopper means no stale coffee; only put in the exact amount of beans needed.
Italian made 64mm flat burrs: Choose between the standard stainless steel burrs or the long-lasting titanium burrs.
Extremely low retention (ELR): The DF64 has <1g of retention, 0.2g dose variance and <0.3g exchange, ranking it amongst the best grinder available on the market.
Stepless Micrometric Adjustments: Unlimited adjustments with the stepless adjustment collar.
Easy to clean: Simply unscrew the collar all the way to access and clean the burrs.
58mm dosing cup included: Grind directly into the included dosing cup or into your portafilter.
| | |
| --- | --- |
| Burrs | 64mm stainless steel or titanium coated |
| Adjustments | Stepless Micrometric |
| Motor  | 110/120V, 250W, 1400 RPM |
| Dosing | Manual |
| Hopper Capacity | 50g  (plus 30g in grinding chamber) |
| Depth | 25.4cm (10") |
| Height | 30.5cm (12") |
| Width | 13.2cm (5.2") |
| Weight | 6.8kg (15lbs) |
| Made in | China,  burrs made in Italy |
| Manufacturer Warranty | 1 year |
| Best suited for | Espresso, Pour Over |
This grinder is sold under multiple names as the manufacturer allows private labelling.  It is also known as the Turin DF64, G-Iota and Solo. 
Shipping: Free shipping for orders over 75$ in Canada and USA. Shipping rates calculated at checkout. Cafe Fabrique is not responsible for any applicable import fees. International Orders are shipped at the risk of the buyer - Café Fabrique will not be responsible for lost/damaged items
Returns: Any item you're not completely satisfied with can be returned up to 30 days after you receive it. The cost of the item, minus initial shipping costs will be refunded.
Click here for the complete shipping policy.
Description
Specs
Shipping & Returns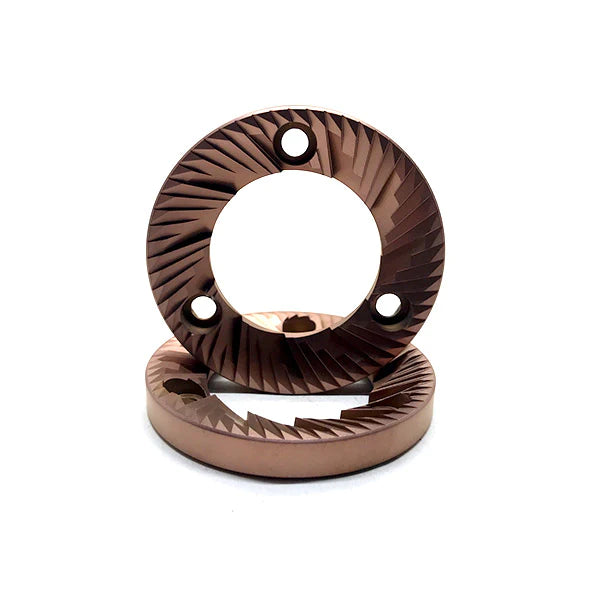 $190.00
Frequently bought together
SSP 64mm Burrs - Red Speed EP & MP
SSP Grinding Solution burrs are the ultimate choice for coffee enthusiasts looking for the perfect grind. Made of high-quality cast-iron material and featuring a durable Red Speed (AlTiN) coating, these burrs boast a custom geometry and unique top and bottom design, ensuring a consistent grind and unparalleled taste in every cup. Upgrade to the best with SSP Grinding Solution burrs.