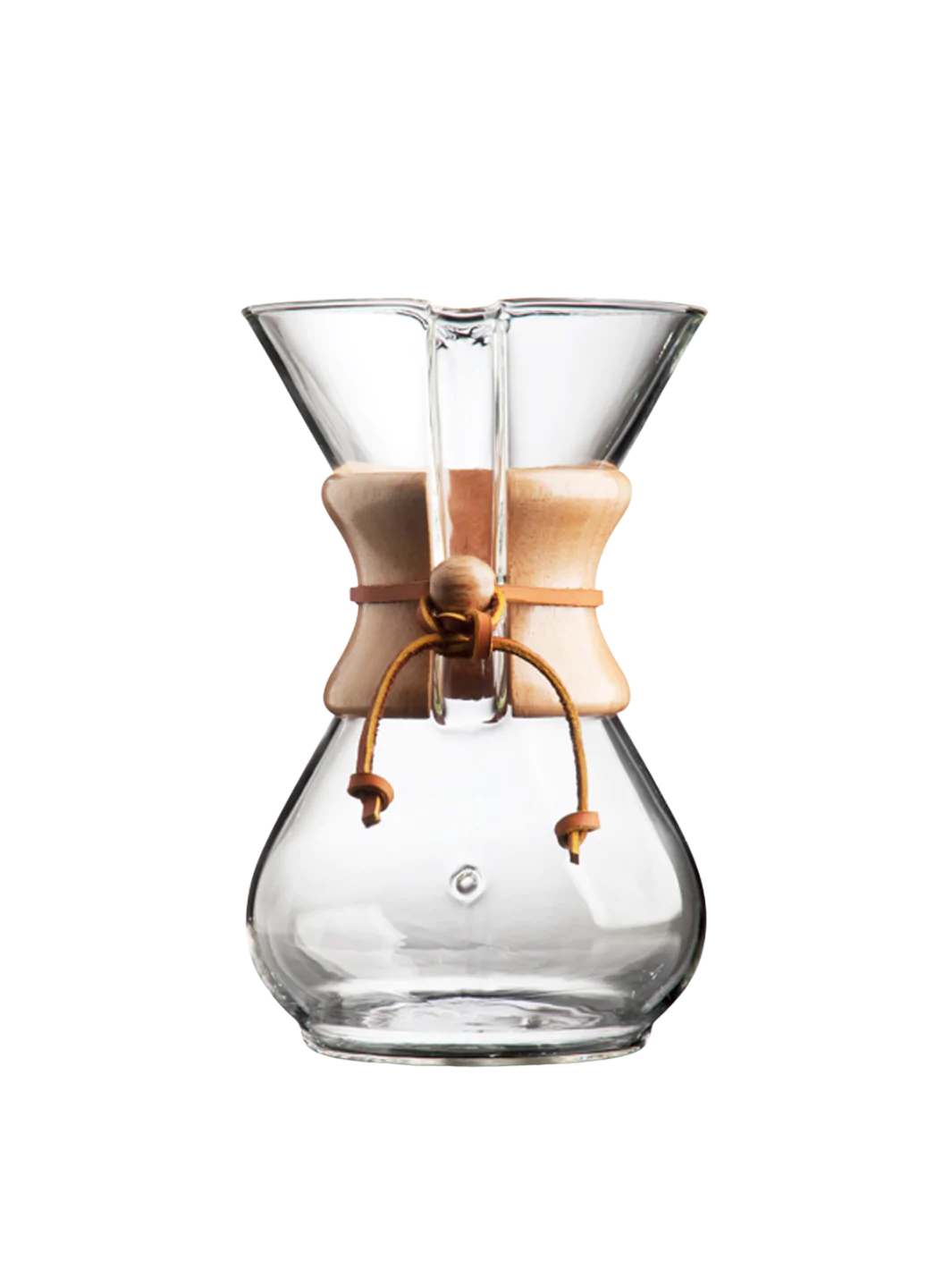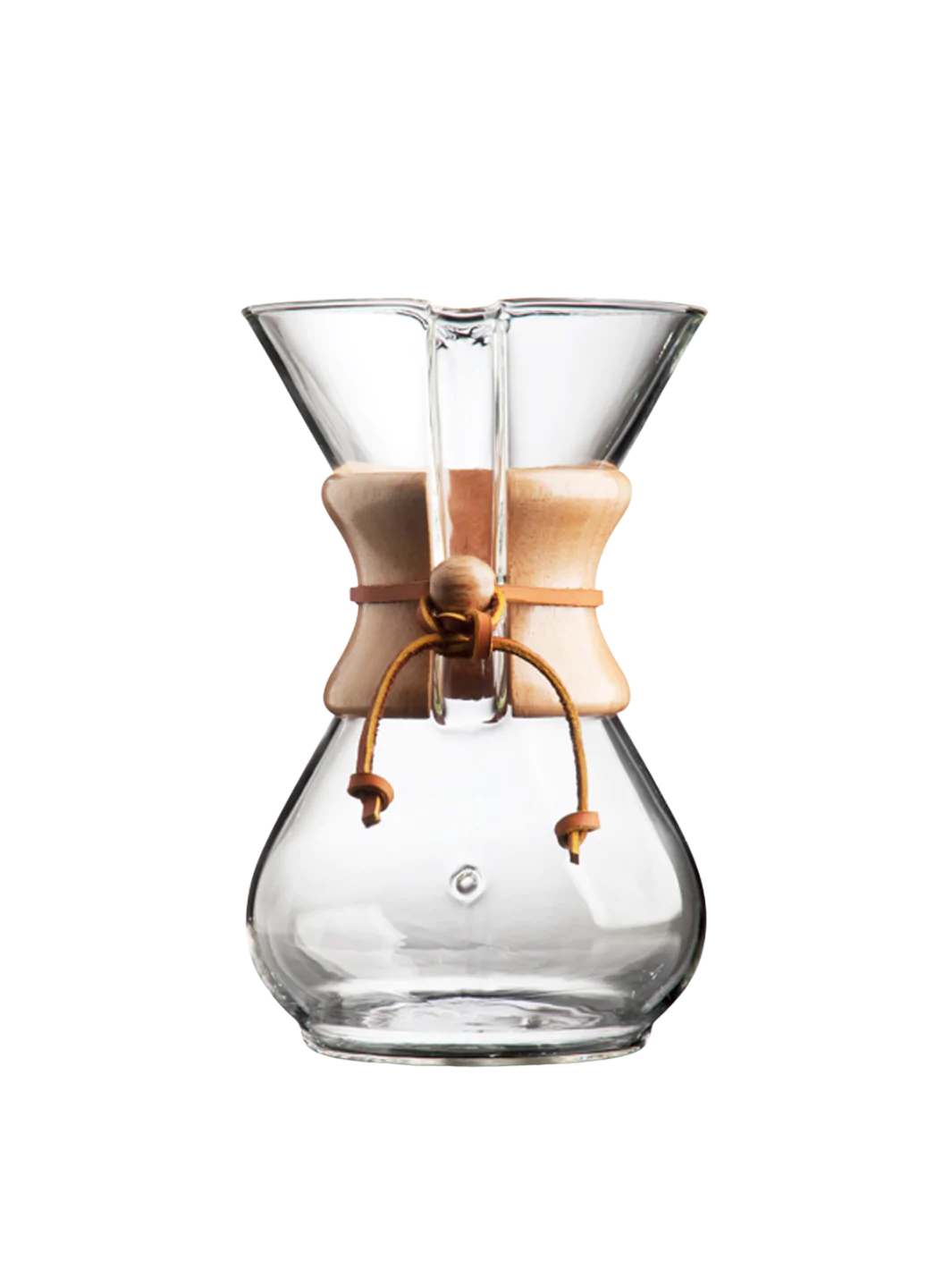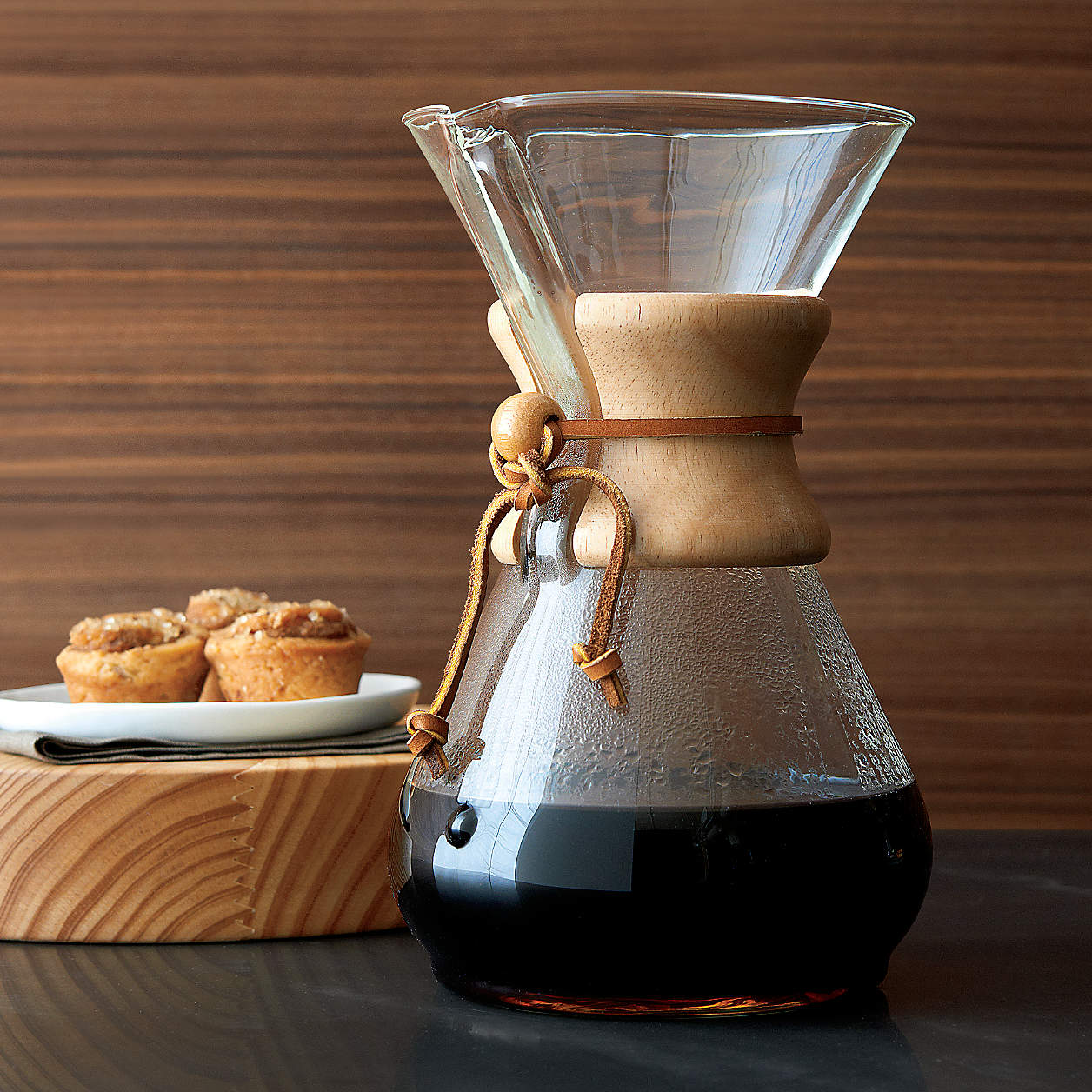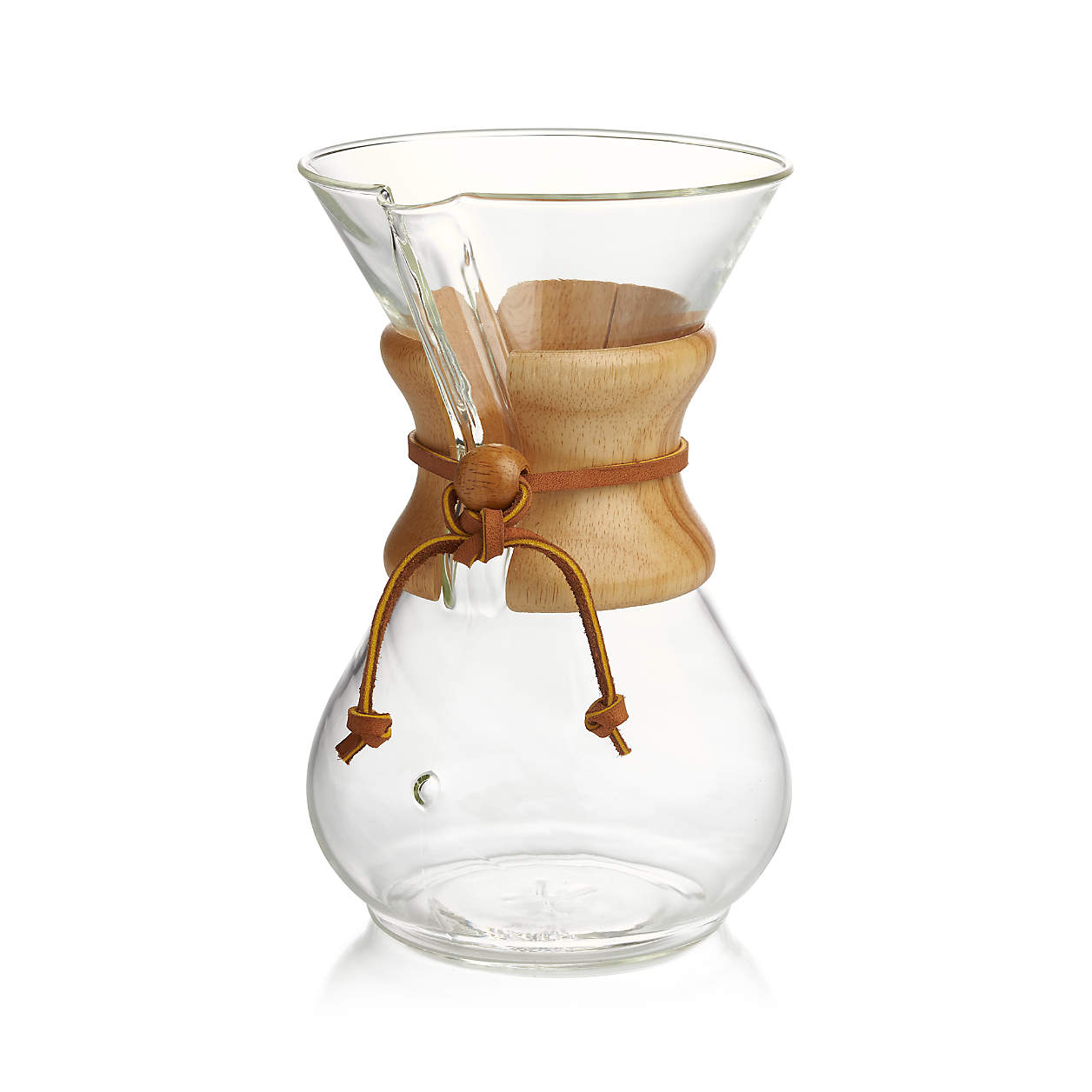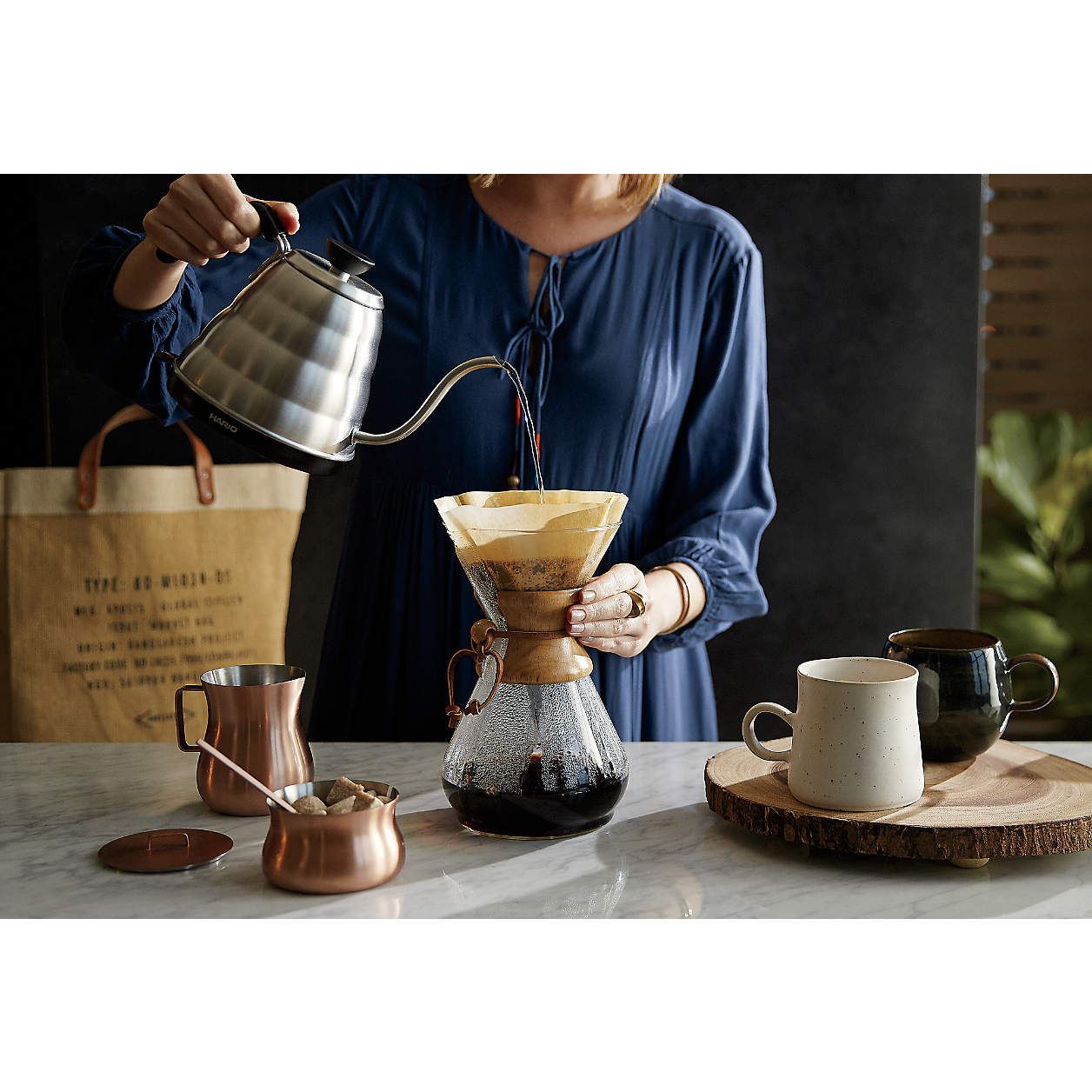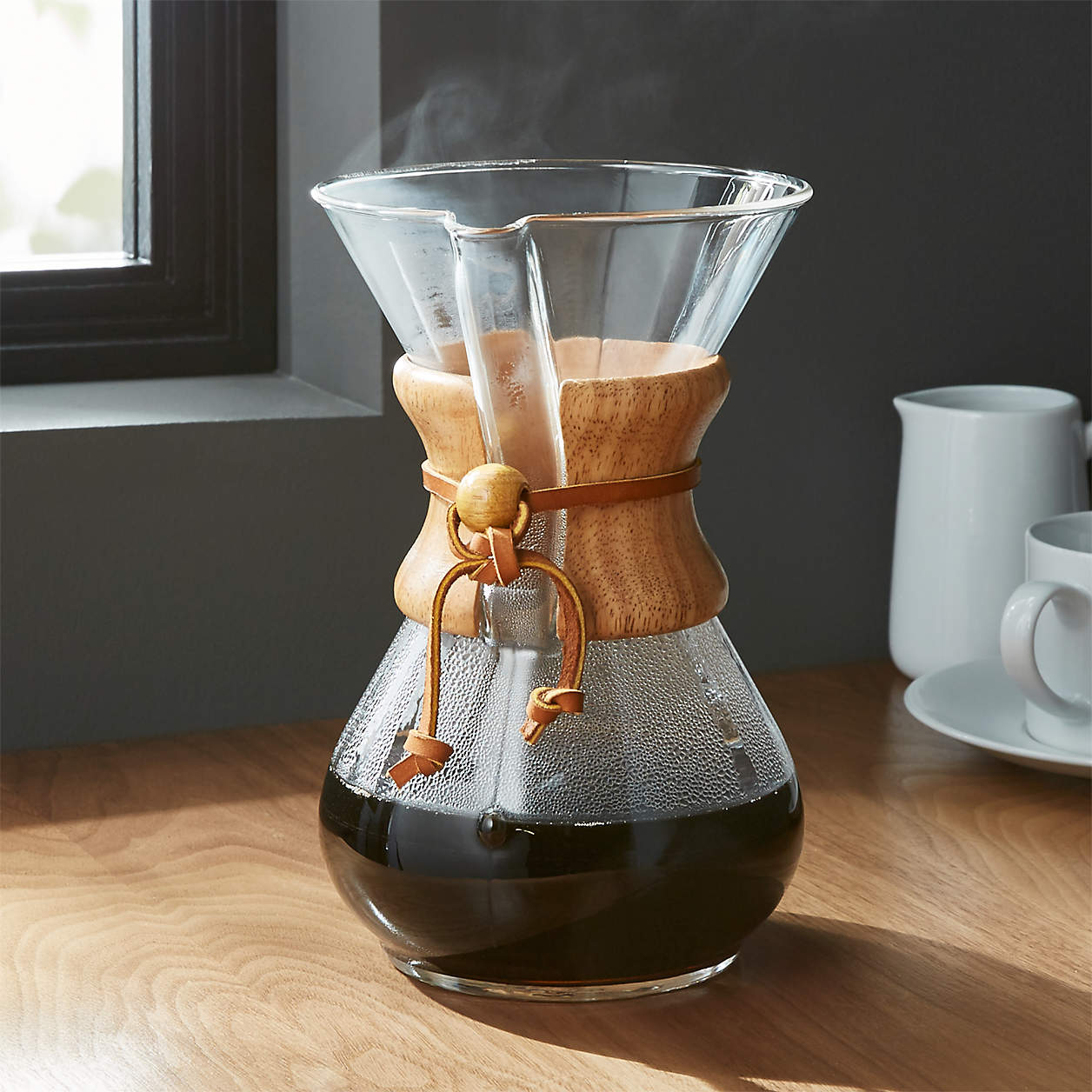 CHEMEX® Six Cup Classic
Chemex
The CHEMEX Six Cup Classic is made with high-quality materials and features scientifically designed filters that ensure a perfect cup of coffee every time. Its stylish construction adds a touch of sophistication to your coffee brewing routine, making it the ideal choice for coffee enthusiasts and casual drinkers alike.
Order now and get it on October 3, 2023 !
Free shipping over 75$ !
Customer service by coffee geeks
Returns accepted in 30 days
Carbon neutral deliveries
See it in action
Are you intrigued about the unique features of this product and interested in seeing it in action? Then, watch this quick video to get a better understanding.
Watch
Description
Specs
Shipping & Returns
What is so special about a Chemex?
The CHEMEX® Six Cup Classic is a coffee brewer that boasts a timeless and elegant design. It was created by German chemist Dr. Peter Schlumbohm in 1941 and features a unique hourglass shape and a wooden collar with a leather tie. Its scientifically designed filters ensure a perfect cup of coffee every time, making it a favorite among coffee enthusiasts worldwide.
Pour Over Brewer
The CHEMEX® Six Cup Classic is a simple and elegant pour-over coffee maker that brews a fresh and delicious cup of coffee. Made of non-porous Borosilicate glass, it is heat resistant and doesn't absorb any odors, chemicals or residues.
Features
Capacity: It can brew up to six cups of coffee at a time, making it perfect for small gatherings or personal use.

Easy to use: Simply add your coffee grounds to the filter, pour hot water over the grounds, and let the coffee brew.

Improved taste: Uses a unique filter that is thicker than a standard paper filter, which helps to remove impurities and unwanted flavors from the coffee, resulting in a clean and delicious cup of coffee.

Durable design: Made of durable, non-porous Borosilicate glass that is resistant to thermal shock and can withstand temperatures up to 212 degrees Fahrenheit.

Stylish design: A beautiful piece of equipment that will add style and sophistication to any kitchen. Its sleek, hourglass shape and wooden collar and tie make it a true work of art.

Easy to clean: It's incredibly easy to clean. Simply remove the filter and rinse the glass container with warm water.

Sustainable: The coffee dripper is a sustainable coffee brewing option as it uses disposable paper filters which are compostable.
Ready to take your coffee game to the next level? The CHEMEX® Six Cup Classic is the answer. Its sleek design and improved taste make brewing coffee a true art form. Say goodbye to complicated machines and hello to the perfect cup every time. Invest in the best and start impressing your taste buds today..

How long should a 6 cup Chemex take to brew?
To brew a perfect pot of 6 cup Chemex coffee, it's important to pour hot water slowly and evenly over coffee grounds. The brewing time will depend on the grind size and desired coffee strength, but on average, it should take 3-4 minutes.
30oz (887ml) capacity
Easy to clean - just remove filter and rinse through
Heat-resistant glass made in Germany
Requires CHEMEX® filters
Super pretty!
Polished wood collar with leather tie made in the USA
Shipping: Free shipping for orders over 75$ in Canada and USA. Shipping rates calculated at checkout. Cafe Fabrique is not responsible for any applicable import fees. International Orders are shipped at the risk of the buyer - Café Fabrique will not be responsible for lost/damaged items
Returns: Any item you're not completely satisfied with can be returned up to 30 days after you receive it. The cost of the item, minus initial shipping costs will be refunded.
Click here for the complete shipping policy.
Description
Specs
Shipping & Returns