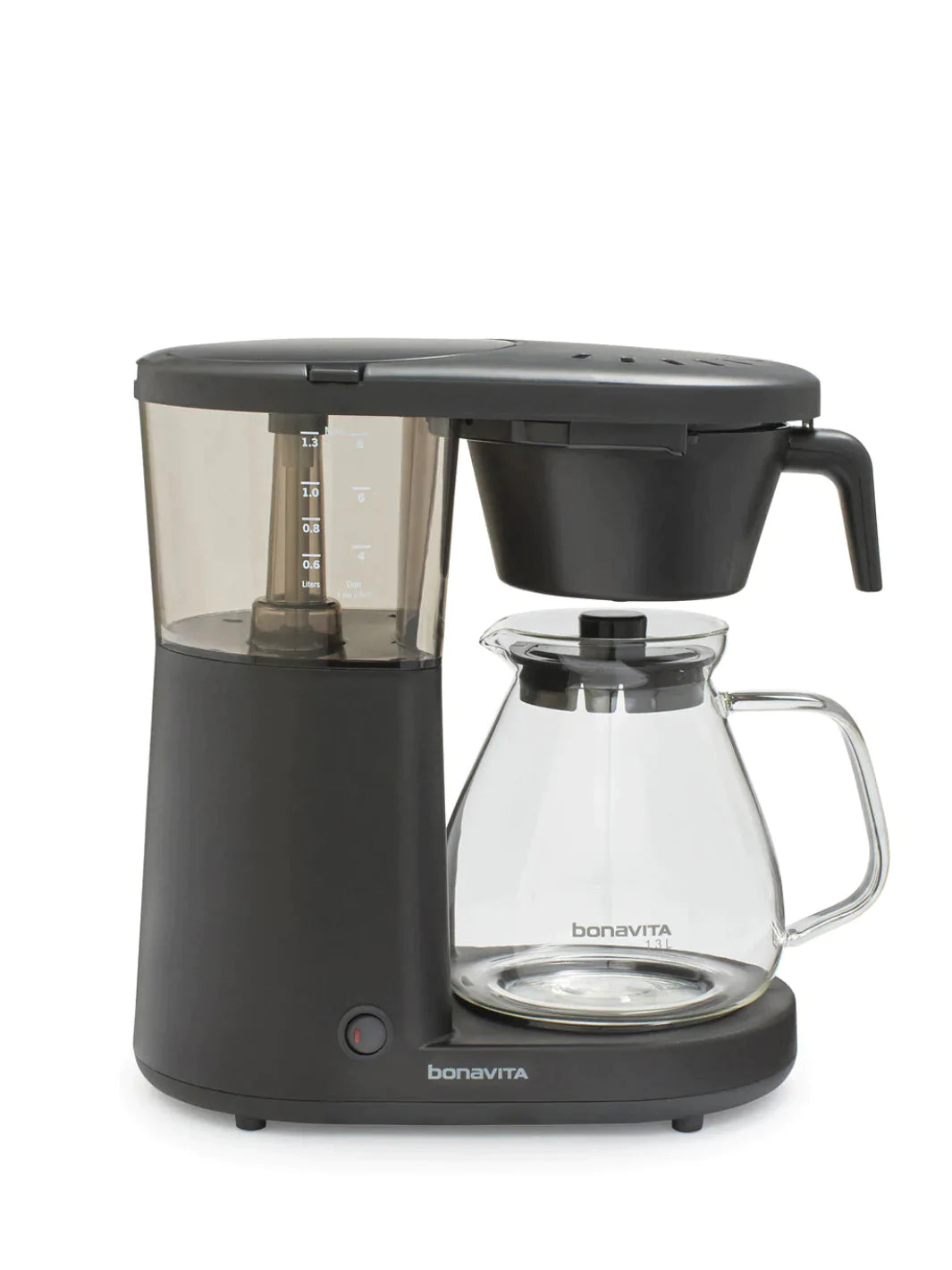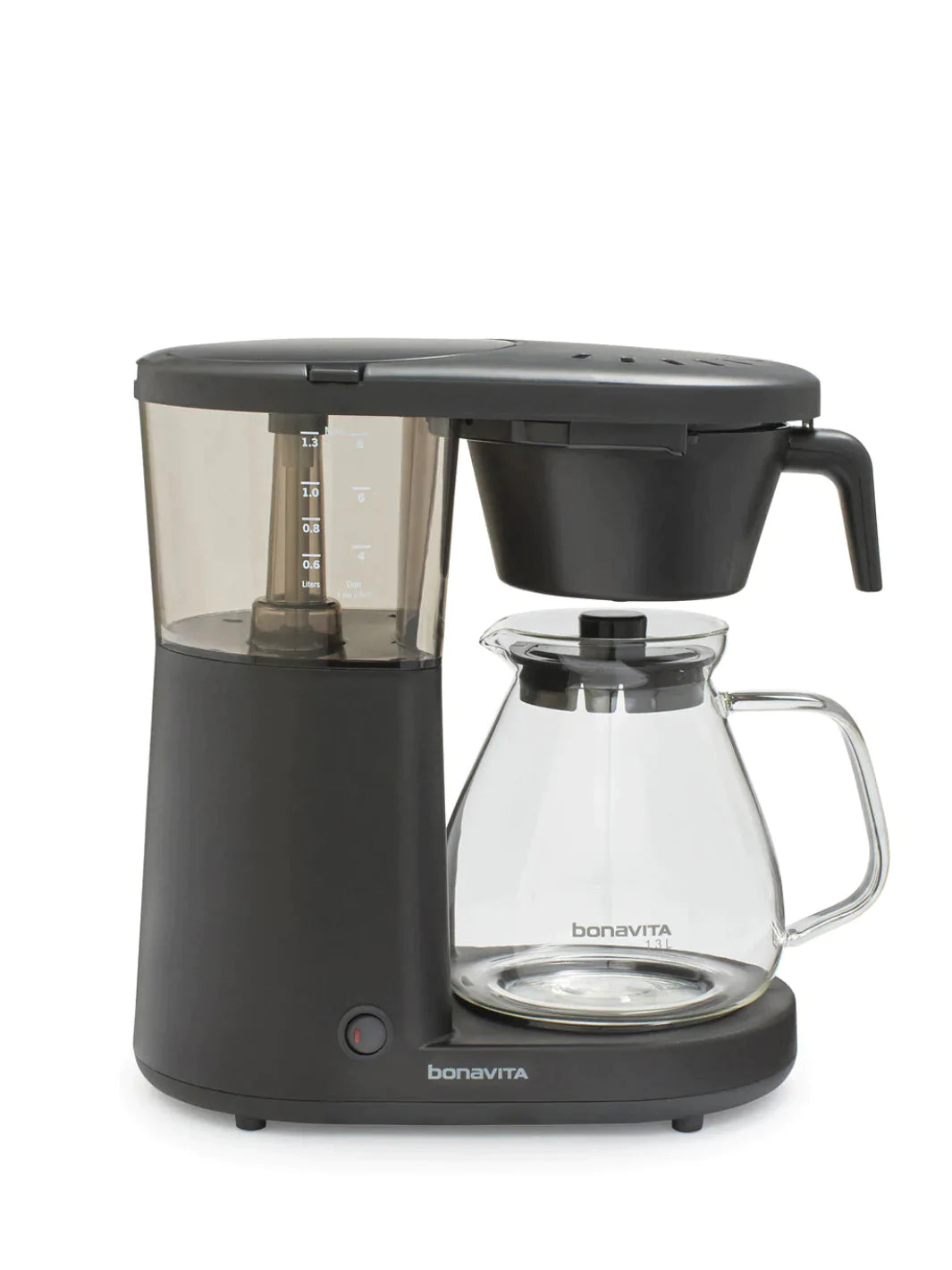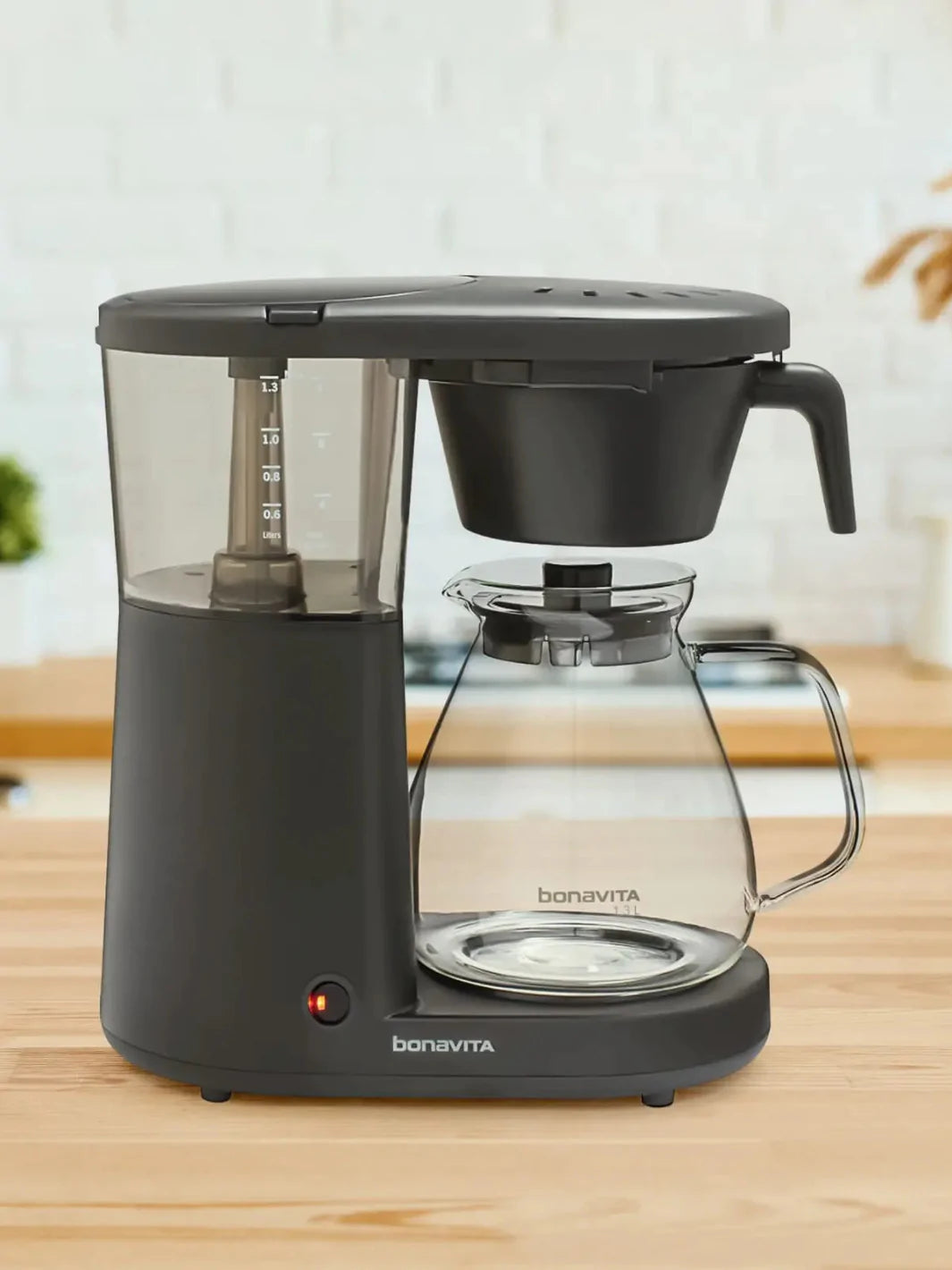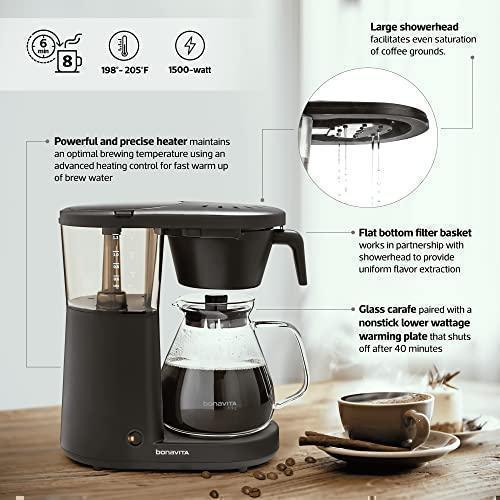 BONAVITA Metropolitan One-Touch - Glass Carafe Coffee Brewer (8-Cup)
Bonavita
Introducing the BONAVITA Metropolitan One-Touch Glass Carafe Coffee Brewer – the perfect choice for coffee lovers who value simplicity and style. With an 8-cup capacity, this coffee maker is ideal for small to medium-sized households or for those who love to entertain guests.
Order now and get it on October 3, 2023 !
Free shipping over 75$ !
Customer service by coffee geeks
Returns accepted in 30 days
Carbon neutral deliveries
Description
Specs
Shipping & Returns
BONAVITA Metropolitan Brewer
The BONAVITA One-Touch coffee brewer simplifies the process of making a rich and flavorful cup of coffee with just the press of a button. The 8-Cup Connoisseur One-Touch Thermal Carafe Coffee Brewer features a hanging filter basket and technology that mimics the artisanal pour-over brewing method.
SCA Golden Cup Standard
Bonavita is committed to meeting the strict standards set by the Specialty Coffee Association (SCA), which recognizes home coffee brewers that meet their technical specifications. These specifications, which include maintaining the proper temperature, are based on the Coffee Brewing Center's extensive industry knowledge.
Bonavita is widely recognized as a leader in home brewing and is certified by the SCA as meeting the qualifications for the SCA Golden Cup. As the industry standard, Bonavita coffee brewers are even used by judges in World Coffee Competitions.
One-Touch
Operation The BONAVITA Metropolitan Coffee Brewer is incredibly easy to use, thanks to its one-touch operation. Simply fill the water tank, add your coffee grounds, and press the button to start brewing. The coffee maker will automatically shut off once the brewing process is complete, ensuring that your coffee stays hot and fresh for hours.
Glass Carafe
The BONAVITA Metropolitan comes with a durable glass carafe, which keeps your coffee hot for hours. The carafe is designed to be easy to pour and has a comfortable handle, making it easy to serve your coffee to guests. The carafe also has a lid that keeps your coffee fresh and prevents spills, so you can take it with you on the go.
Precision Brewing
The BONAVITA Metropolitan Coffee Brewer is designed to brew coffee at the perfect temperature, ensuring that all the flavors and aromas are extracted from the coffee grounds. The coffee maker also has a pre-infusion mode, which allows the coffee grounds to bloom before the brewing process starts, resulting in a more flavorful cup of coffee.
Stylish Design
The BONAVITA Coffee Brewer is designed to look great in any kitchen, with a sleek and modern design. The coffee maker is made of high-quality materials and has a black stainless steel finish, which makes it easy to clean and maintain. The coffee maker also has a compact design, making it easy to store in small kitchens.
Features
One-touch operation for easy brewing
Glass carafe keeps coffee hot for hours
Precision brewing for optimal flavor extraction
Pre-infusion mode for a more flavorful cup of coffee
Sleek and modern design
High-quality materials and stainless steel finish
Easy to clean and maintain
Compact design for small kitchens
If you're looking for a simple and stylish way to brew coffee at home, the BONAVITA Metropolitan One-Touch Glass Carafe Coffee Brewer is the perfect choice. With its one-touch operation, glass carafe, precision brewing, and stylish design, this coffee maker is sure to satisfy all your coffee needs. So why wait? Order your BONAVITA Metropolitan Coffee Brewer today and start enjoying the perfect cup of coffee every time!
Independently tested, the Metropolitan brews coffee to Golden Cup Standard when following the recommended brewing instructions
Performance coffee brewer makes a 8-cup carafe in approximately 6 minutes
Powerful and precise 1500-watt heater maintains optimal brewing temperature of 91°-96°C (195°-205°F)
Optional pre-infusion mode saturates freshly roasted ground coffee to allow degassing before brewing
Showerhead design facilitates even saturation of coffee grounds for ideal extraction in small batch sizes
Audible signal when brewing cycle ends
Flat-bottomed filter basket allows for even better saturation and uniform extraction
Glass carafe paired with a nonstick warming plate that shuts off after 40 minutes
Lower wattage warming plate keeps coffee held at ideal 176˚-185˚F as recommended by the Specialty Coffee Association
One-touch brew operation with auto-off for ease of use
Carefe, carafe lid, filter basket, and showerhead are dishwasher safe and all plastic is BPA-free
Dimensions: L32 x W17.3 x H31cm (L12.60 x W6.80 x H12.20in)
1-year limited warranty
The carafe lid, filter basket, and showerhead are all dishwasher safe and the plastic is BPA-free.
Shipping: Free shipping for orders over 75$ in Canada and USA. Shipping rates calculated at checkout. Cafe Fabrique is not responsible for any applicable import fees. International Orders are shipped at the risk of the buyer - Café Fabrique will not be responsible for lost/damaged items
Returns: Any item you're not completely satisfied with can be returned up to 30 days after you receive it. The cost of the item, minus initial shipping costs will be refunded.
Click here for the complete shipping policy.
Description
Specs
Shipping & Returns