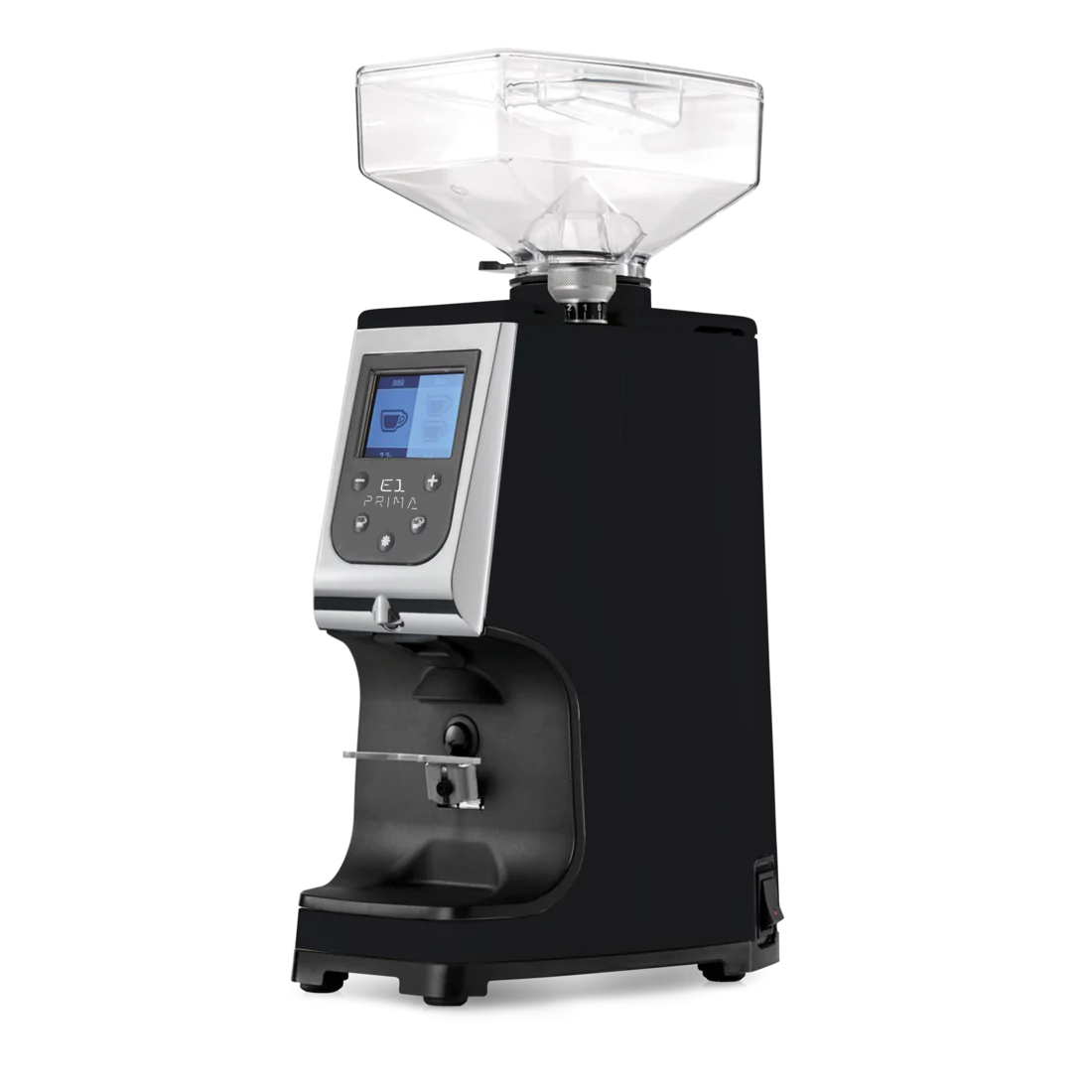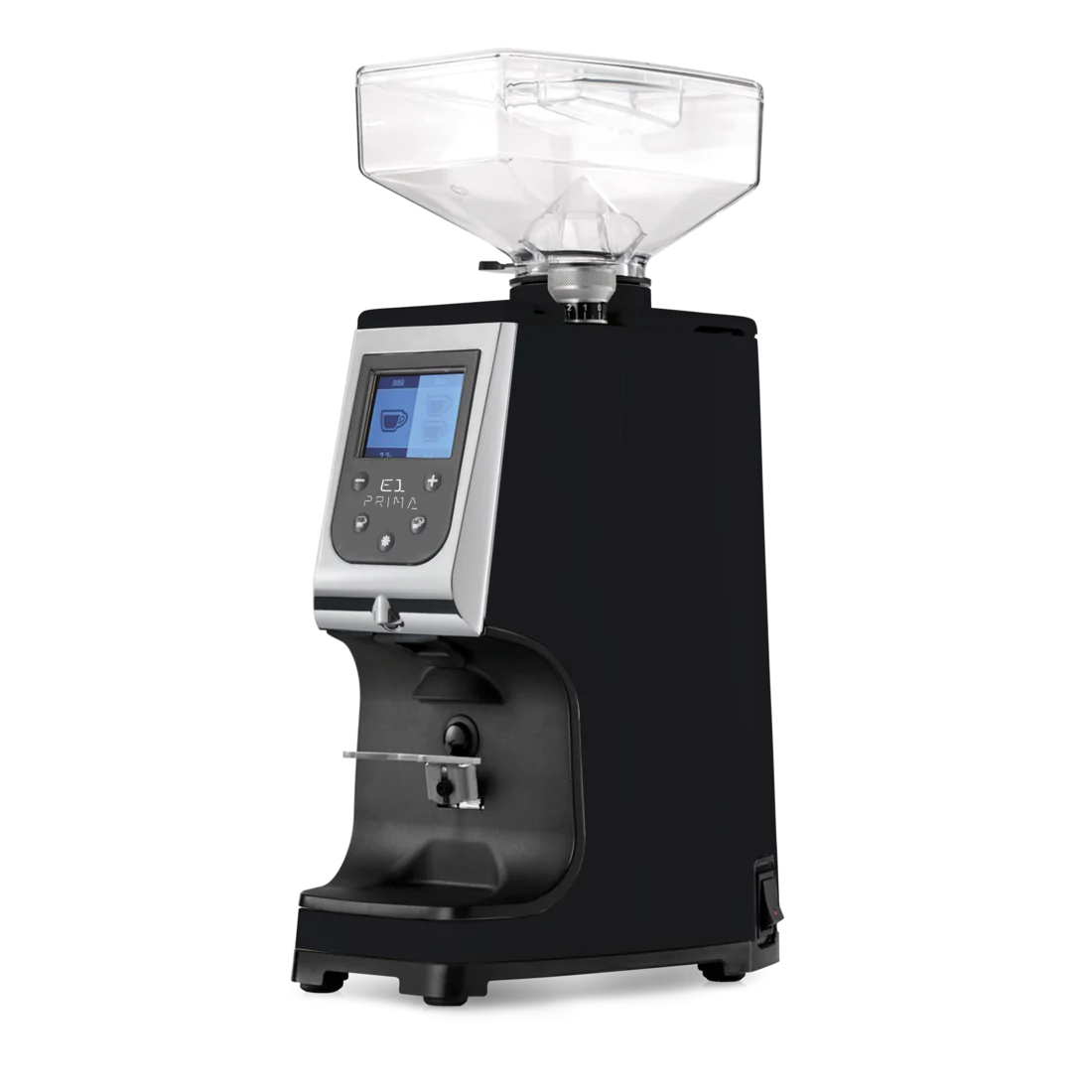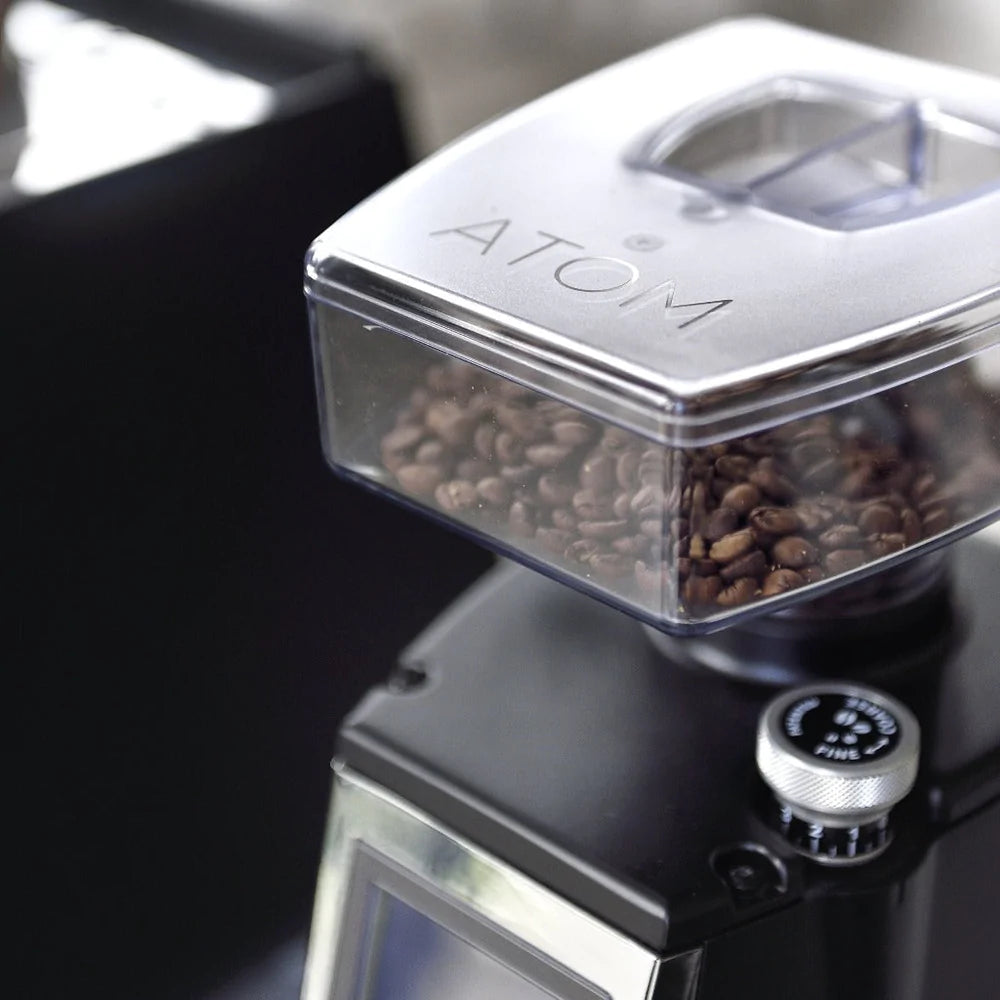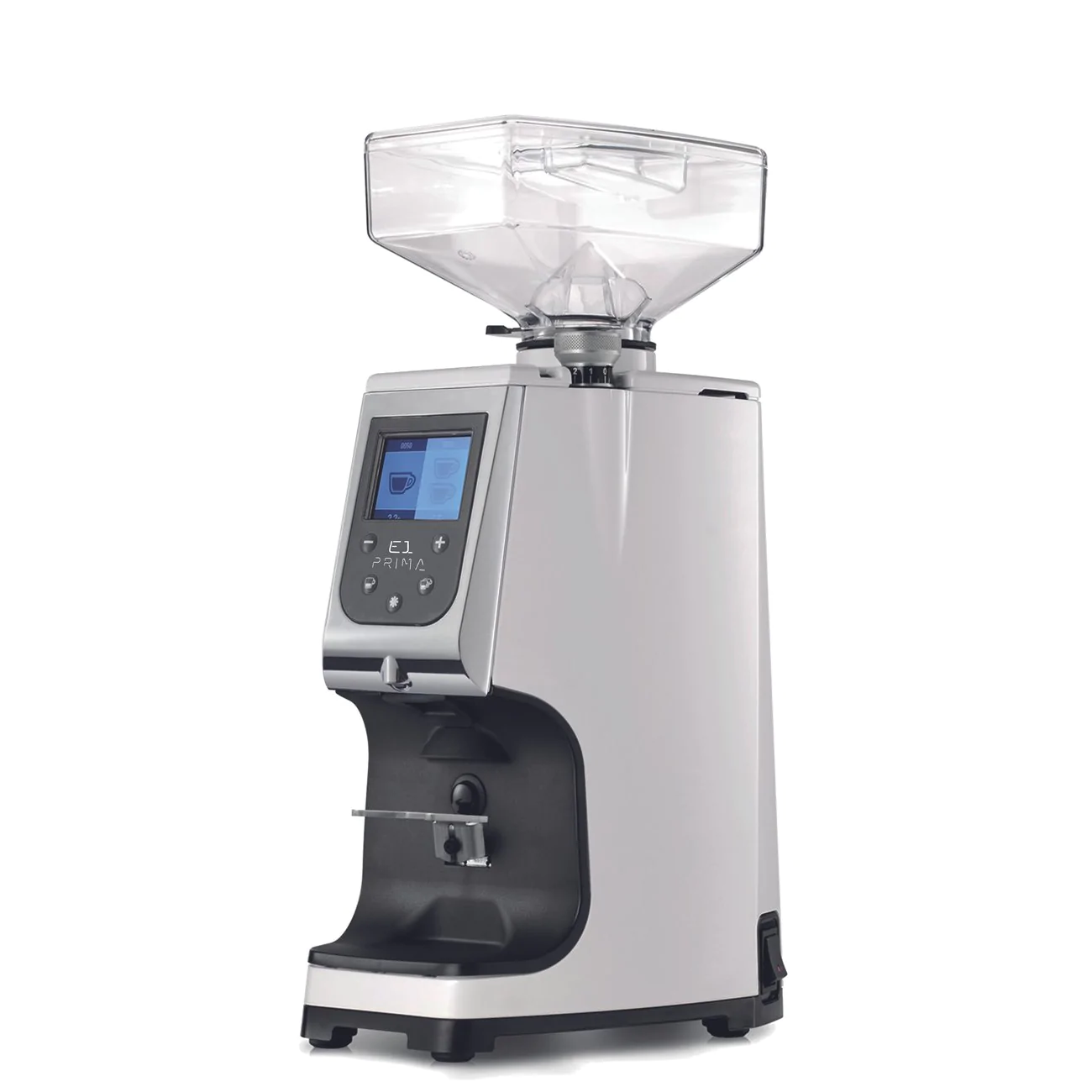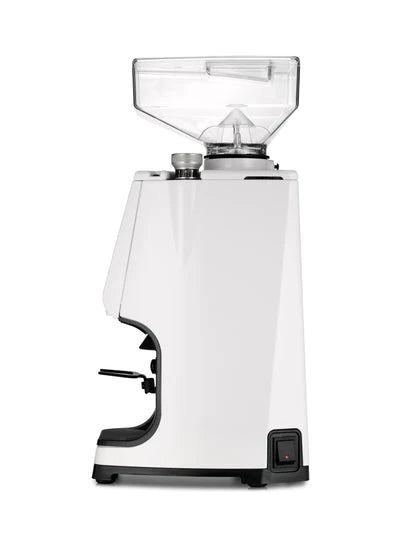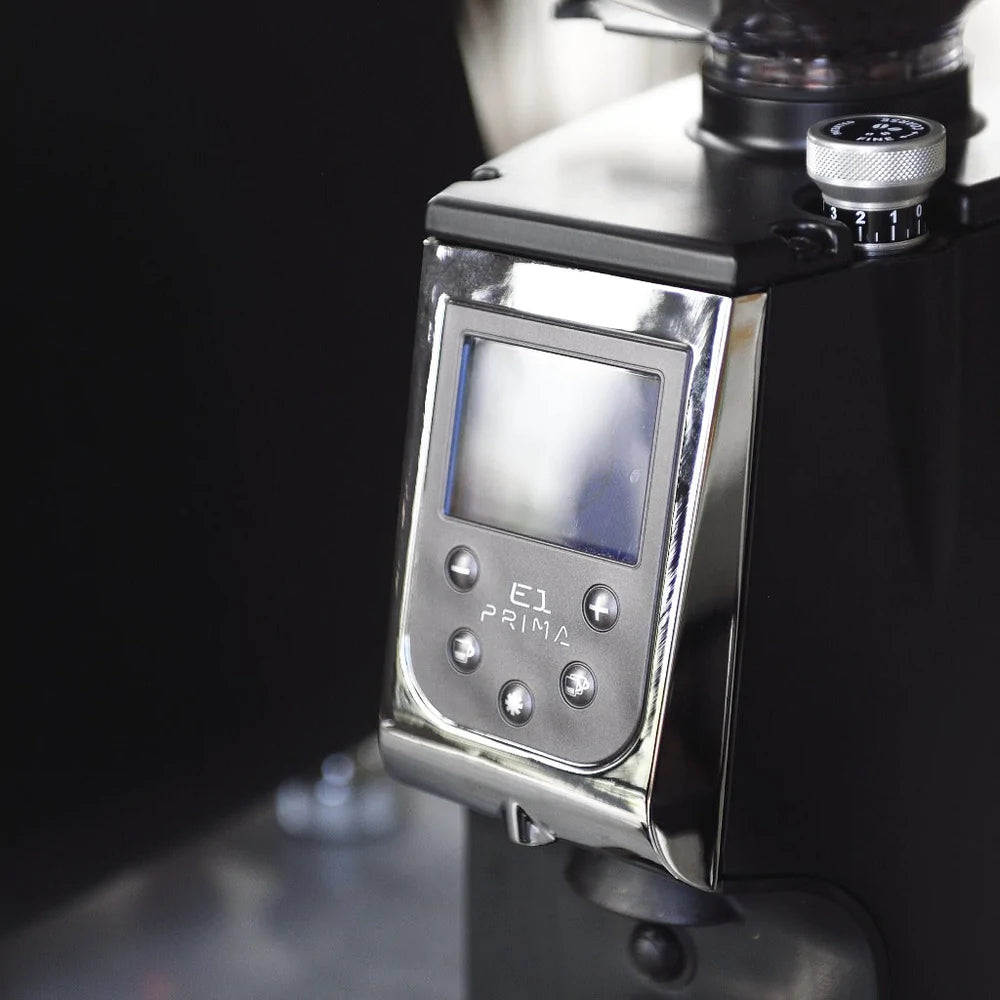 Eureka Atom 65 E1 Prima - Specialty Coffee Grinder
Eureka
The Eureka Atom Specialty 65 is the perfect choice for coffee enthusiasts looking for a user-friendly and high-performance grinder. Its anti-vibration technology and large 65mm burrs make it quiet and efficient, while its stepless micrometric adjustment system and time-based grinding options allow for precision and consistency. The grinder also has a spotlight above the portafilter holder for easy viewing, and a hopper stopper for easy removal and bean changing. Plus, it's made by Eureka, an Italian company with a century of experience in crafting high-quality grinders. Upgrade your brewing experience with the Eureka Atom Specialty 65.
Free shipping over 75$ !
Customer service by coffee geeks
Returns accepted in 30 days
1 year warranty
Description
Specs
Shipping & Returns
Eureka Atom Specialty 65 Overview
This special edition Eureka Atom Specialty 65 is a user-friendly espresso grinder that uses anti-vibration technology to keep it quiet. Its standout feature is the burr system, which preserves your grind settings even when the 65mm flat steel burrs are removed for cleaning or replacement.
Performance Oriented
The grinder has a user-friendly interface with buttons for single, double, and manual dosing and a control for dispensing speed. Additionally, the ACE System works to prevent clumping and static for a smooth and consistent dose. The grinder also has a spotlight above the portafilter holder to make it easier to see the grinds fill the portafilter.
Large Burrs and Motor
The Eureka Atom Prima 65 is equipped with large 65mm burrs and a powerful 510-watt motor that work together to grind a 20g dose in just 7 seconds. The grinder is also notably quiet, allowing for conversation while it is in operation.
It dispenses grinds quickly, at a rate of between 2.7 and 3.7 grams per second, and comes with a fork attachment that can be adjusted to accommodate any size portafilter. Its "clump crusher" screen design and narrow chute help to make the grounds fluffy and evenly distributed in the basket, making distribution easy.
Stepless Adjustment
The Atom Prima 65 has a micrometric adjustment system that offers a variety of grind sizes, ideal for brewing espresso.
Features
Stepless adjustment: allows for an "infinite" range of settings for fine-tuning grind to espresso machine
Large 65mm flat grinding burrs: made of long-lasting, hardened steel
High RPM at 1650: increase efficiency and reduce wait time
Time-based grinding: "1-cup" mode can adjust from 0.5 seconds to 25 seconds, "2-cup" mode can adjust from 0.5 seconds to 35 seconds
Color display: showing time, "1-cup" or "2-cup" modes
Hopper Stopper: allows for easy removal of the hopper with beans inside, but beans already passed through the burrs will have to be ground out first.
Where are Eureka coffee grinders made?
All of Eureka's grinders are made in their factory in Florence, Italy, where they have a team of skilled craftsmen who work to ensure that each grinder meets their high standards for performance and design.
Eureka grinders are known for their precision, consistency and durability. With a deep understanding of the coffee industry and a commitment to quality, Eureka has become one of the most respected names in the world of coffee grinding.
Power
Volts: 110 
Watts: 350-450
Amp draw: 5
Receptacle: Nema 5-15 
Dimensions
Height: 17 inches
Depth: 9 inches
Width: 7.1 inches
Shipping: Free shipping for orders over 75$ in Canada and USA. Shipping rates calculated at checkout. Cafe Fabrique is not responsible for any applicable import fees. International Orders are shipped at the risk of the buyer - Café Fabrique will not be responsible for lost/damaged items
Returns: Any item you're not completely satisfied with can be returned up to 30 days after you receive it. The cost of the item, minus initial shipping costs will be refunded.
Click here for the complete shipping policy.
Description
Specs
Shipping & Returns