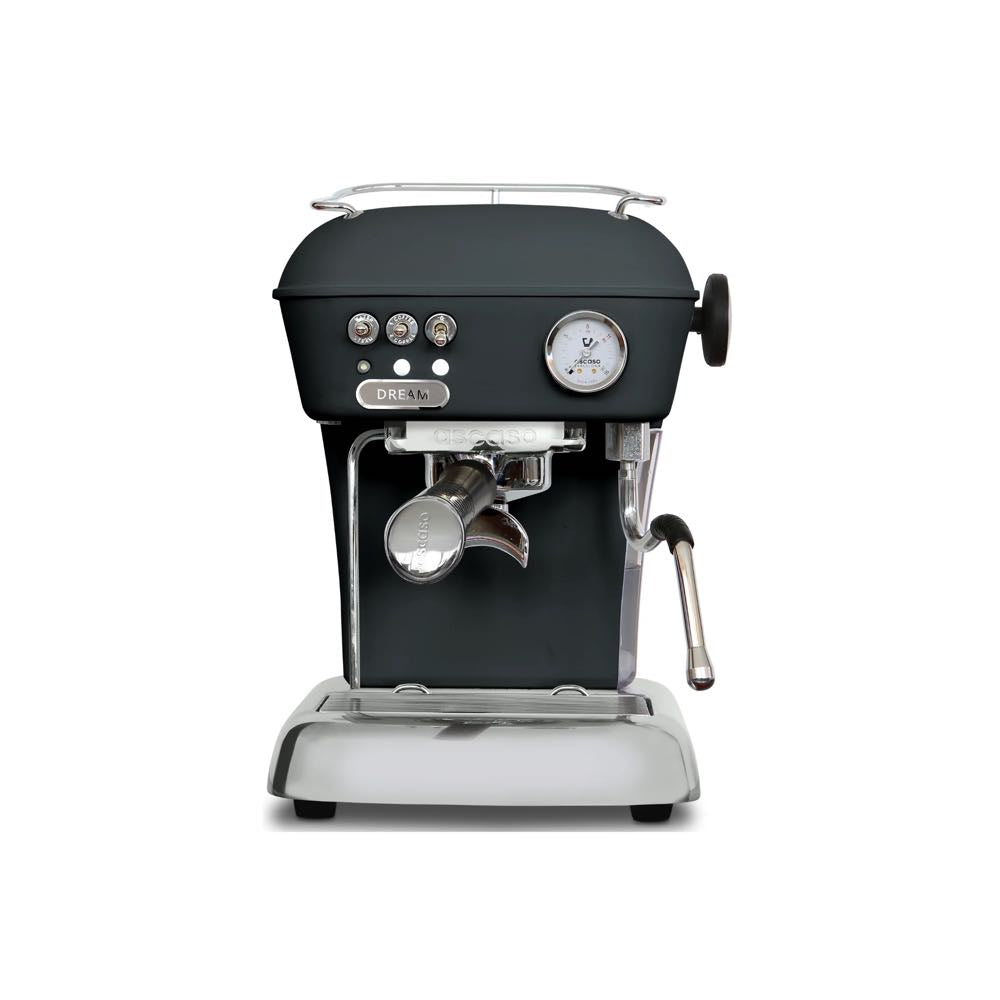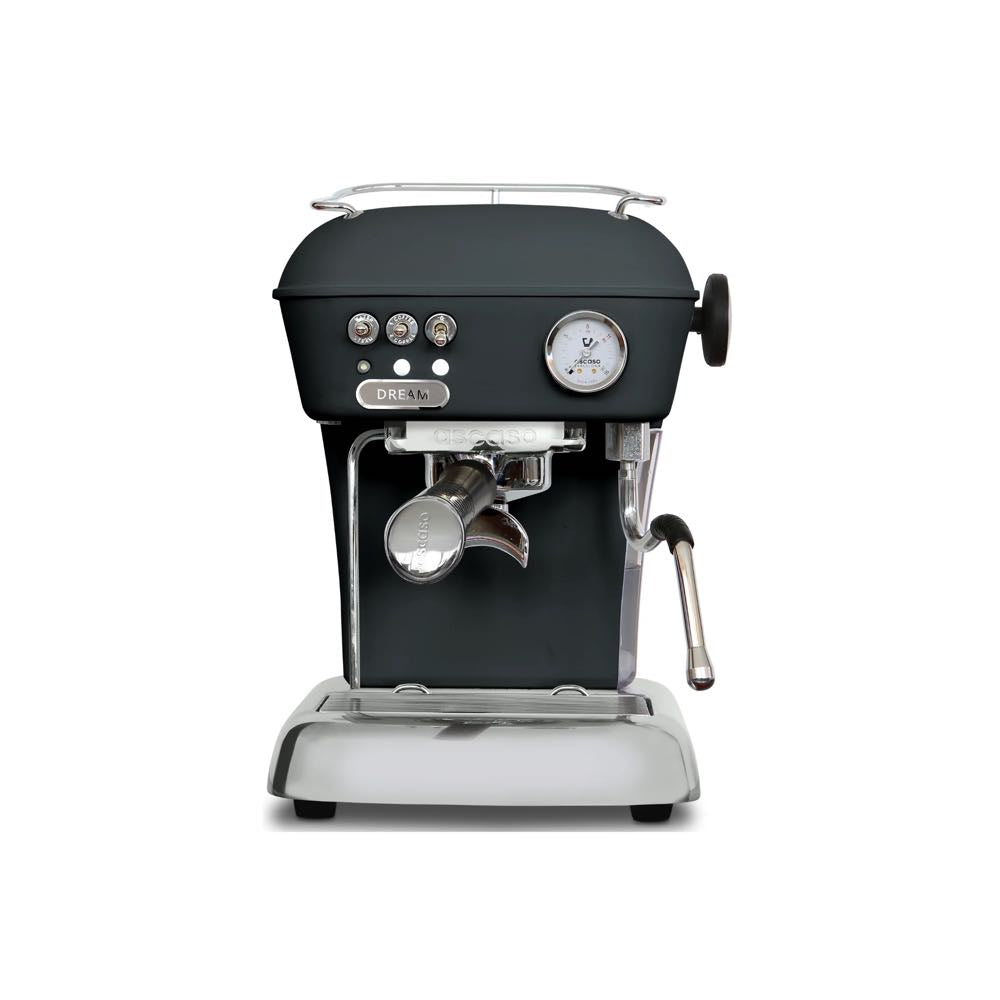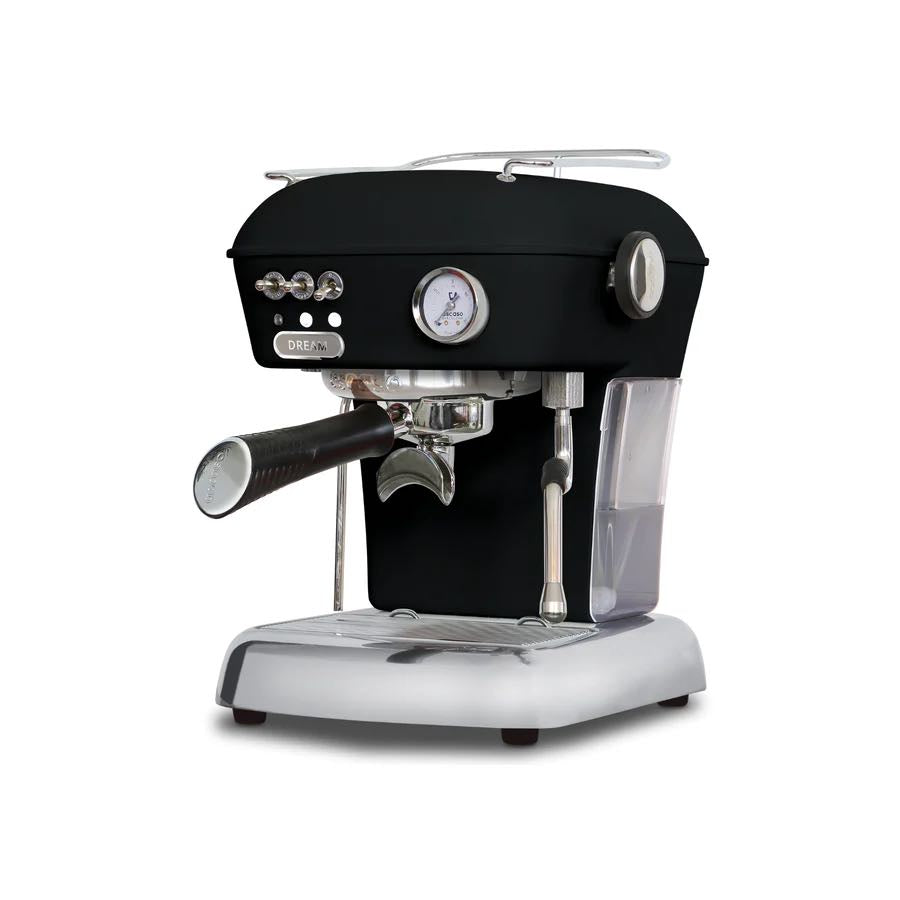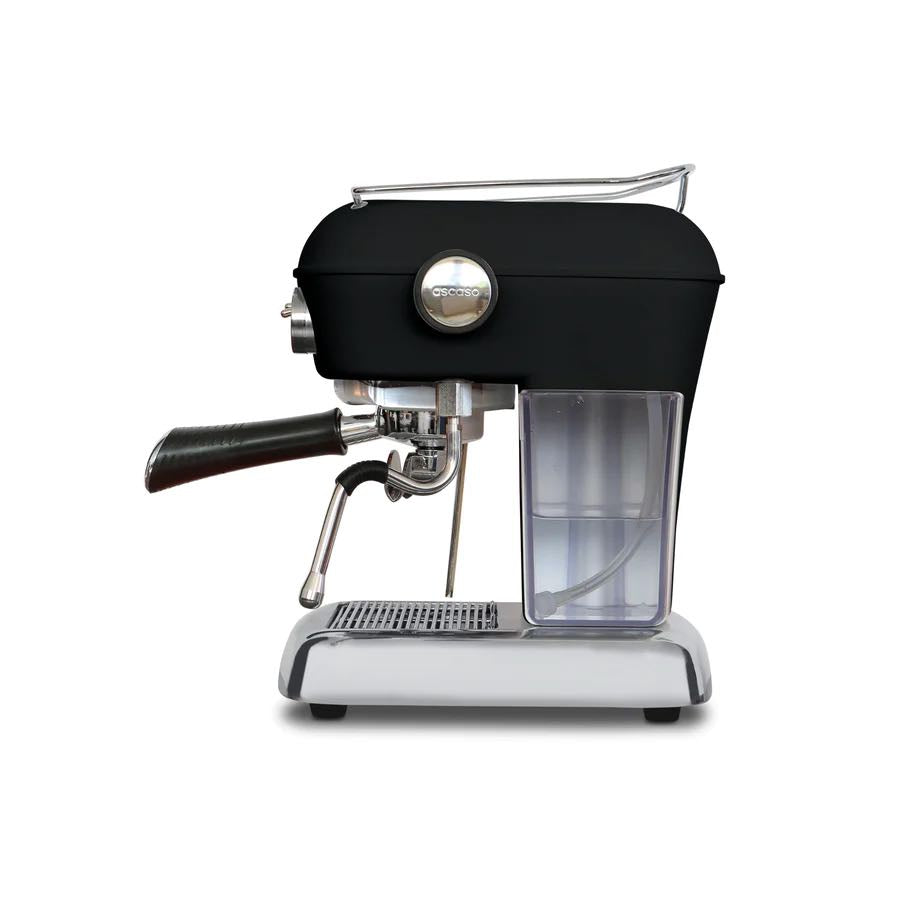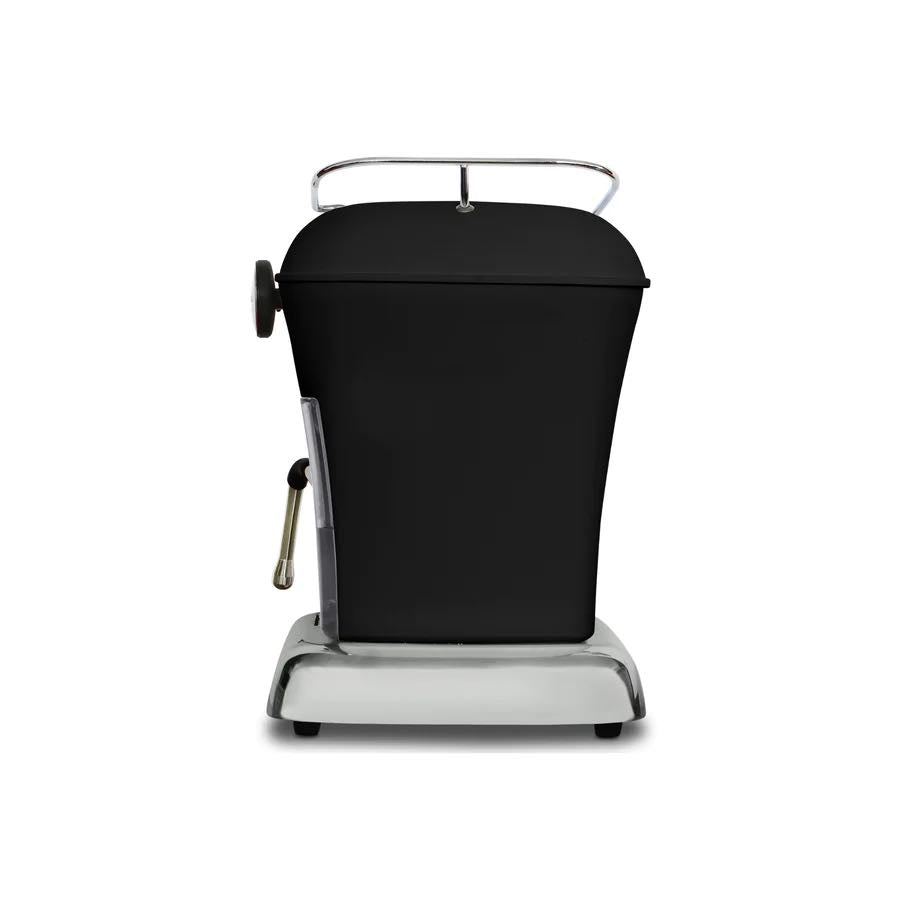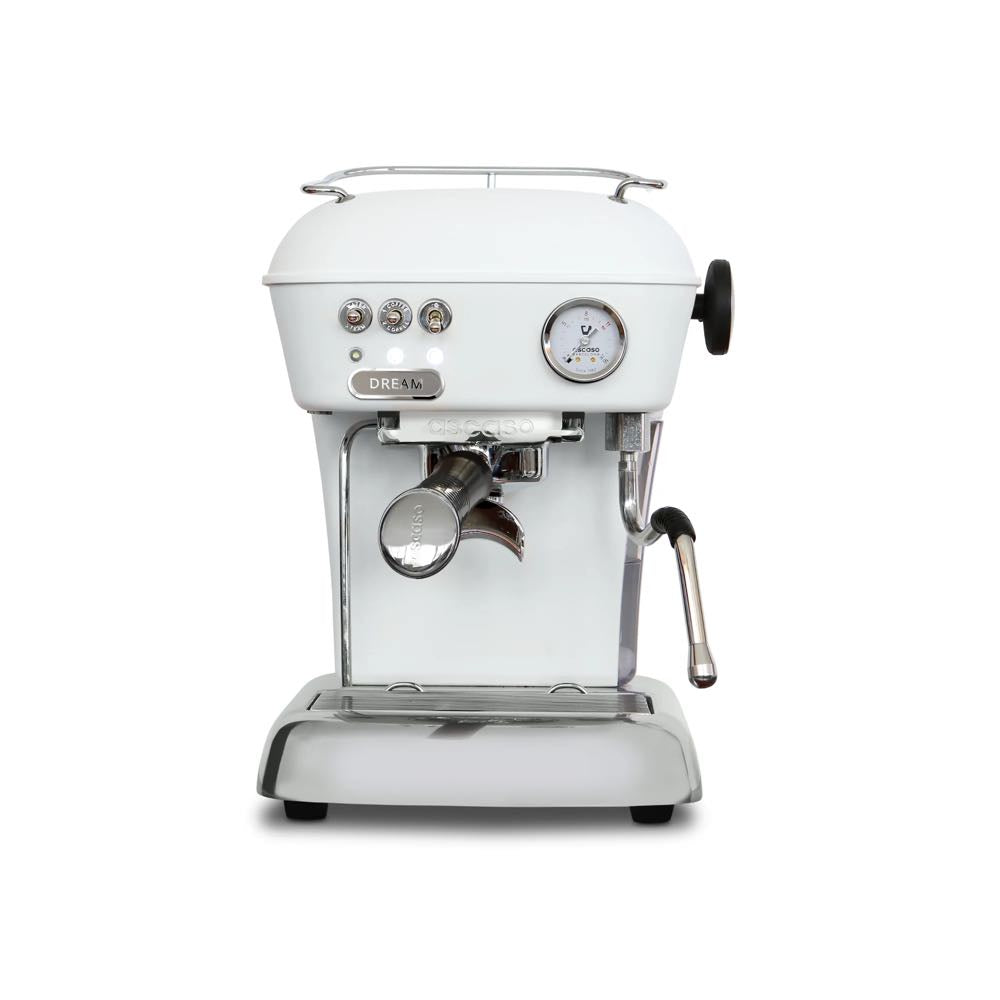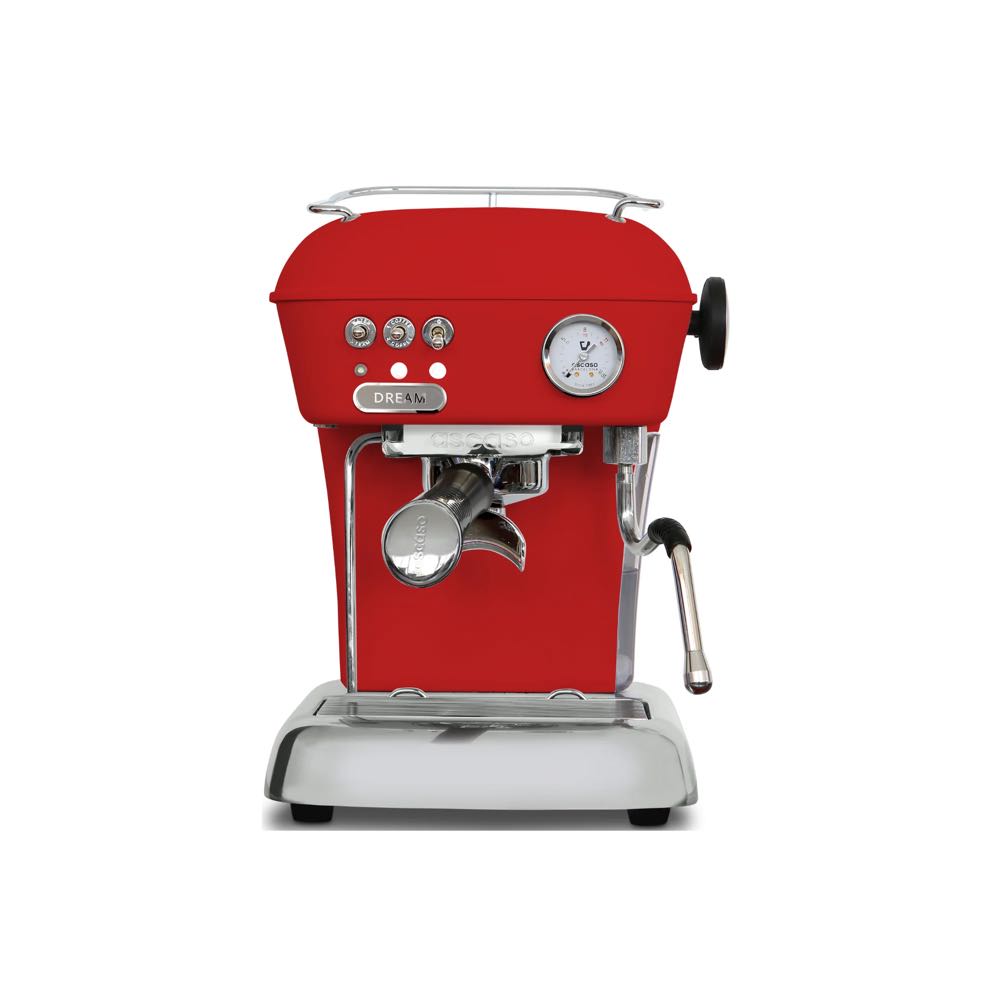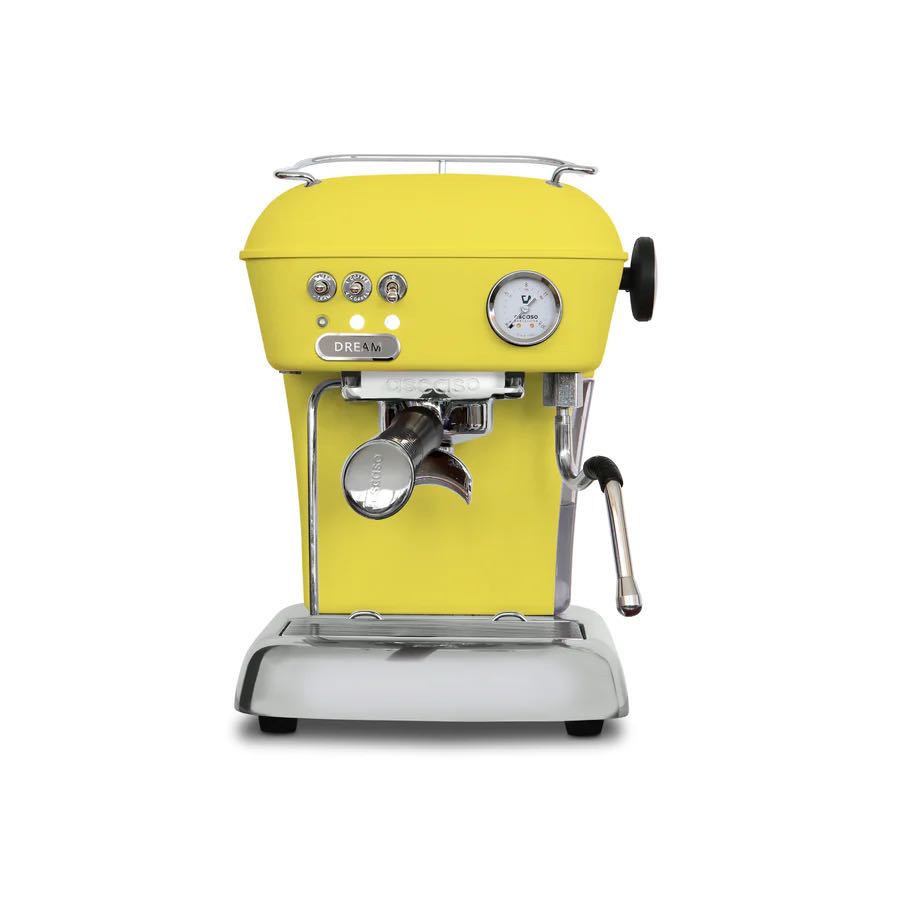 ASCASO Dream One V3 - Espresso Machine
Ascaso
Get modern performance with vintage charm in the Ascaso Dream One espresso machine. It's classic construction meets 21st century engineering - a unique mix sure to give you your ideal cup of coffee!
Free shipping over 75$ !
Customer service by coffee geeks
Returns accepted in 30 days
1 year warranty
See it in action
Are you intrigued about the unique features of this product and interested in seeing it in action? Then, watch this quick video to get a better understanding.
Watch
Description
Specs
Shipping & Returns
About The Ascaso Dream One
If a vintage-style espresso machine with modern commercial-grade construction is what you're after, the Ascaso Dream One may be just for you. Backed by Ascaso's 1 year warranty and 5 years on Thermoblock boiler components this affordable powerhouse packs all of the features necessary to deliver quality shots without sacrificing your wallet. Built in Spain and made to last - not much more than that could satisfy an espresso aficionado!
Includes
Energy Efficient Thermoblock
100% stainless steel water path
3 Way Solenoid Valve
Temperature Gauge
Unlimited Steam
All the portafilter baskets
Professional tamper
Limescale-resistant stainless steel coated Thermoblock
The Ascaso Dream One is the ultimate espresso setup. With a 57mm portafilter, you get 5 baskets including two non-pressurized and two pressurized options as well as an ESE pod compatible single serve basket! To keep your espresso maker running smoothly there's also a blank portafilter for backflushing + stainless steel tamper to evenly distribute those perfect grounds each time!
Thermoblock Technology
Single Boiler
Ascaso Dream's state-of-the art Thermoblock boiler guarantees an immaculate coffee experience. Constructed with both aluminum and stainless steel, it is equipped to reach the perfect temperature in no time - thanks to its two thermostats which allow for precise control of your brew and steam! And fear not; a third thermostat prevents any unwelcome overheating incidents while a stainless steel circuit keeps limescale at bay so you can enjoy all that delicious flavour without interruption.
Brass Grouphead
Unlock your inner barista with the group of chrome-plated brass. With its innovative "Dream Up" element, you can enjoy evenly distributed heat during extraction for a smooth and balanced espresso every time!
Multiple Poltafilter Options
The Ascaso Dream model is available with two types of portafilter
Fixed portafilter for using the ESE capsules
Mobile portafilter for the use of both ground coffee and ESE capsules.
The Ascaso is a Dream come true for coffee lovers. It features an impressive 20 bar pump that enables you to extract the best possible flavor from your beans while reaching the ideal 9 bar with ease. The integrated solenoid valve reduces pressure automatically when the brewing cycle ends, so water returns back into the tank - eliminating any drop in pressure on your filter holder!
The Ascaso Build Quality
Thermoblock
The Dream One is the picture of classic elegance. Outfitted with a sleek painted steel design, polished metal elements - this thermoblock system will bring your coffee game to the next level! Let this finely crafted Spanish beauty become part of your daily routine.
Fast Temperature Delivery
The advantage of a single boiler thermoblock machine is that you can make espresso and steam at the flick of a switch. The Ascaso Dream is more than capable of doing that.
| | |
| --- | --- |
| Boiler Type | Thermoblock, Single Boiler |
| Boiler Wattage | 1050W |
| Boiler Material | Aluminum block, stainless steel path |
| Boiler Size | N/A |
| Group Size | 57mm |
| Programmable | No |
| PID | No |
| Pre-Infusion | No |
| 3 Way Solenoid  | Yes |
| Pump Type | Vibratory |
| Water Supply | 1.3L water tank |
| Cup Warmer | No |
| Included baskets | Single, double, pressurized single, pressurized double, ese pod |
| Included accessories  | Steel tamper, coffee scoop |
| Depth | 28cm (11.0") |
| Height | 34.5cm (13.6") |
| Width | 24.3cm (9.6") |
| Weight | 10.0kg (22lbs) |
| Power | 110/120V, 1050W |
| Made in | Spain |
| Manufacturer Warranty | 1 year, 5 years on thermoblock |
Shipping: Free shipping for orders over 75$ in Canada and USA. Shipping rates calculated at checkout. Cafe Fabrique is not responsible for any applicable import fees. International Orders are shipped at the risk of the buyer - Café Fabrique will not be responsible for lost/damaged items
Returns: Any item you're not completely satisfied with can be returned up to 30 days after you receive it. The cost of the item, minus initial shipping costs will be refunded.
Click here for the complete shipping policy.
Description
Specs
Shipping & Returns