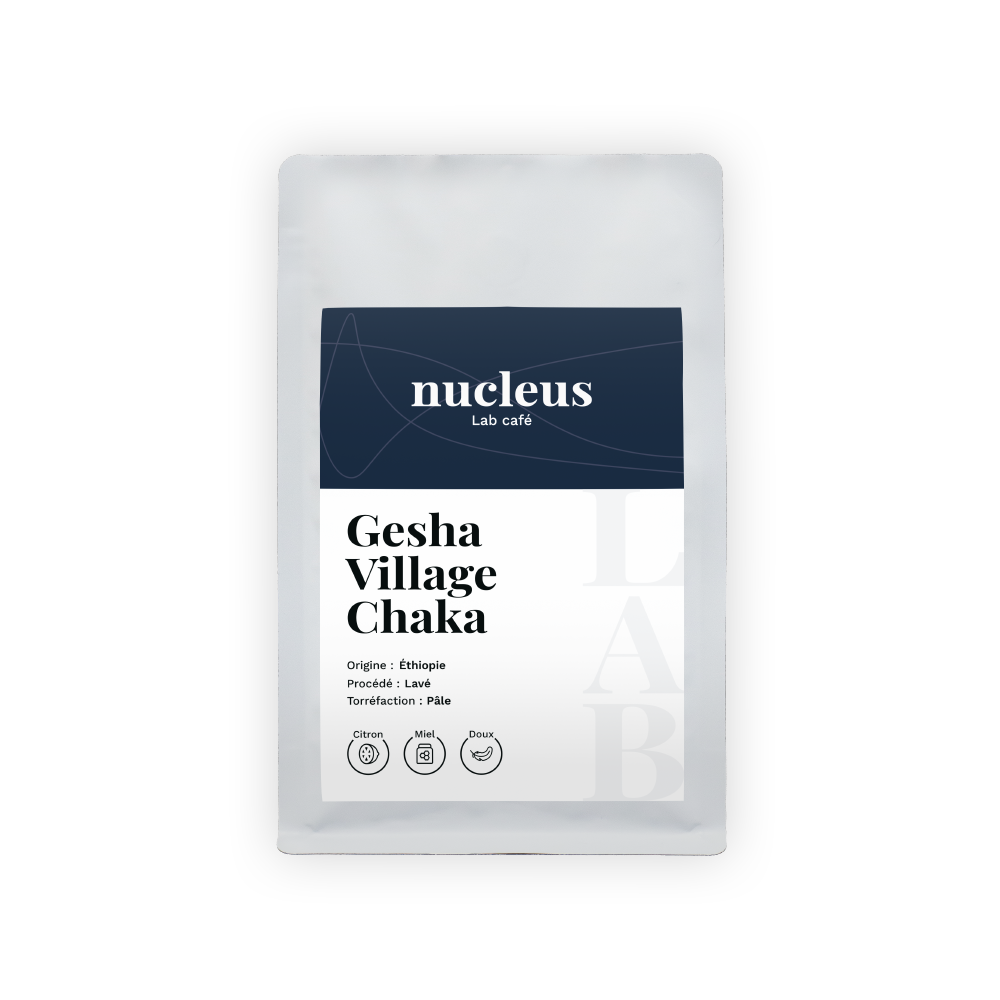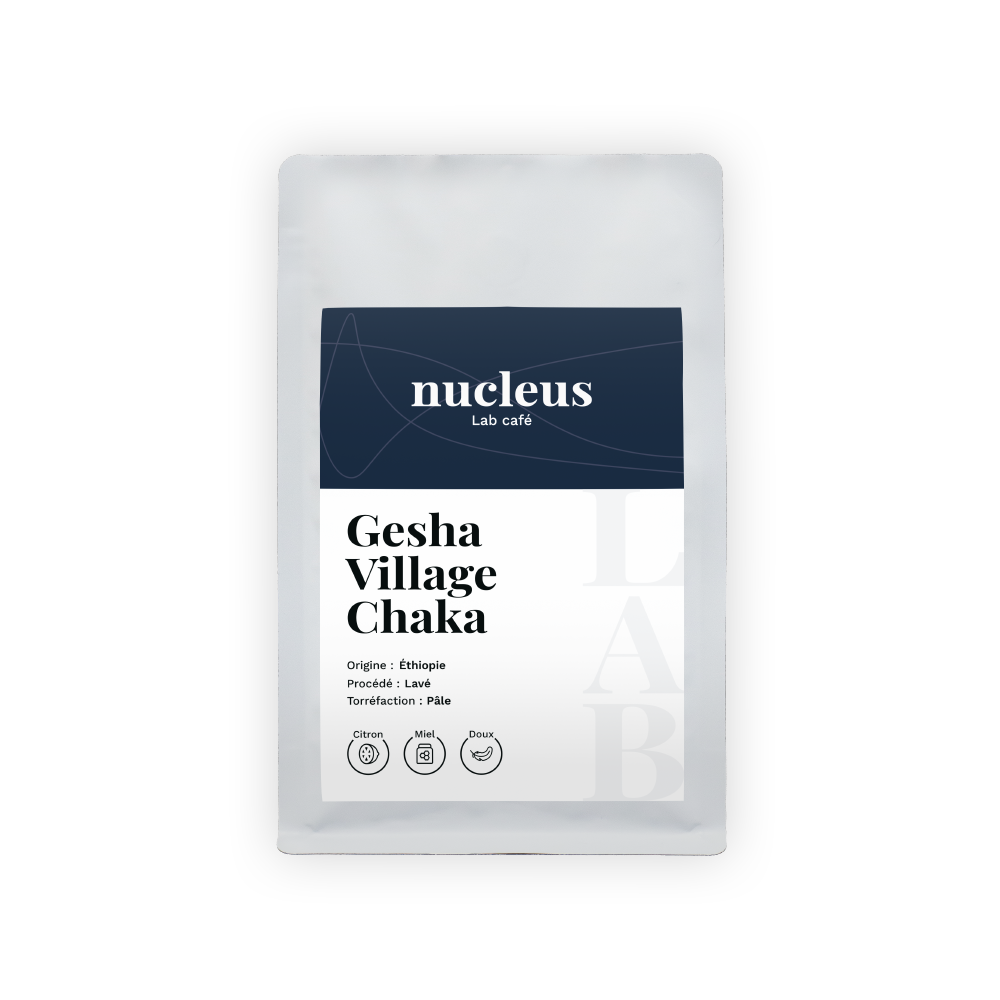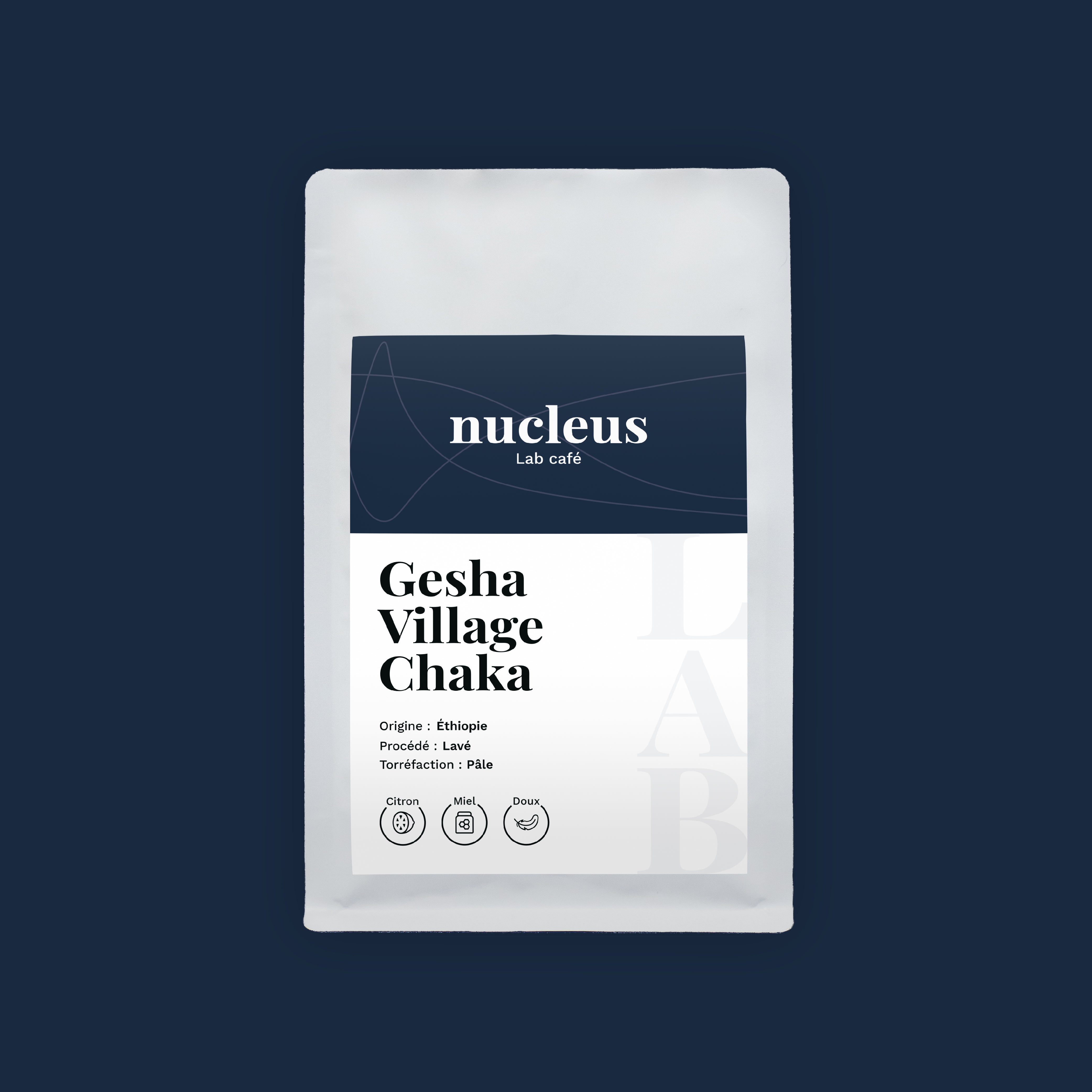 Nucleus Coffee Lab - Ethiopian Gesha Village
Nucleus
Gesha Village's Chaka evokes a delightful blend of sweet lemon, peach, apricot and honey.
Order now and get it on October 3, 2023 !
Free shipping over 75$ !
Customer service by coffee geeks
Returns accepted in 30 days
Carbon neutral deliveries
Description
Shipping & Returns
We present to you an exceptional batch of coffee from Gesha Village. An incredibly smooth and approachable profile. The symphony of stone fruit notes intertwines with a bright citric edge that adds a nice depth to the overall structure. This coffee evokes a tantalizing blend of sweet lemon, peach, apricot and honey.
The flavor structure evokes the creaminess of a lemon iced tea, complemented by sweet white flowers. Each sip is a testament to the smooth, round texture of the coffee, which lingers pleasantly in the mouth.
This coffee from Nucleus has a special place in our hearts as it comes from Gesha Village, with an unparalleled reputation and proven quality. Being a washed coffee, we decided to opt for a rather classic and fast curve, with the objective of disturbing the ROR as little as possible and thus taking advantage of the natural aromas of this delicious bean. With a first crack at +- 5 minutes 15 seconds at a temperature of 206 degrees and a development of 15%, it is therefore a fairly pale coffee with little caramelization. The fruit flavors keep the natural acidity of the coffee and give a pleasant velvety and round texture.

Gesha Village Farm
Grown at an altitude of between 1911 and 2069 meters above sea level, the coffee has been imbued with the richness of its environment. With a rainfall of 2000 mm/year and humidity ranging from 10 to 90%, the geographical conditions of the Southwestern state, West Omo zone, have proven ideal for coffee cultivation.
The harvest
The beans were meticulously harvested between December 9, 2021 and January 5, 2022. A dry fermentation process was used for 18 hours, which enhanced the natural flavors and aromas of the coffee. The beans were then dried for a period of 30-35 days on raised beds at an ideal drying temperature of 35°C Max - 20°C Min.
More information
Variety : Mixture of heirs
Future price paid per kilogram: 8.36 USD FOB
Process : Washed
Harvest Date: 9/12/2021 - 5/1/2022 Drying time: 30 - 35 days of drying on raised beds
Drying temperature: 35 °C Max. - 20 °C Min.
Altitude: 1911 - 2069 masl Humidity: 10 - 90%
Geographical location: 1,000 - 2,000 masl
Shipping: Free shipping for orders over 75$ in Canada and USA. Shipping rates calculated at checkout. Cafe Fabrique is not responsible for any applicable import fees. International Orders are shipped at the risk of the buyer - Café Fabrique will not be responsible for lost/damaged items
Returns: Any item you're not completely satisfied with can be returned up to 30 days after you receive it. The cost of the item, minus initial shipping costs will be refunded.
Click here for the complete shipping policy.
Description
Shipping & Returns